Cold, cold abit.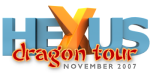 abit may not be quite the force it once used to be in the enthusiast motherboard market but we correctly guessed that there must be something interesting going on in a building of that size.



Tucked away in a small-ish room on the highest floor were a group of abit folk who were clearly more maniacal than the average engineers.


Armed with a healthy dose of insanity and LN2 cooling, they were passing Monday afternoon by subjecting a poor IX38 QuadGT to some real cold treatment.




Using a saucepan that's more suited to handling pasta than liquid nitrogen, the craziest-looking employee fed the CPU copious amounts of the Cold Stuff. An Intel Core 2 Duo E6400 was pushed right up to 550MHz+ FSB (2200MHz QDR - 4.4GHz) on a chipset that was only indirectly cooled by the freeze-your-nads off LN2. Fun, indeed.



He'd obvious gone too far and was snared by the glove, resting conspicuously on the LN2-feeding pipe. We heard he was still there some hours later.....



A couple of digital thermometers detailed the temperatures of the LN2 and processor, measured right on the core itself. Cold, cold stuff and certainly not something you should try at home.

Now we know why abit was late to market with the IX38 QuadGT: there was just too much fun to be had with esoteric and dangerous cooling.