The only way is up, baby
Taiwan's SilverStone Technology has today announced its big-tower Raven RV01 chassis.
Pictured below, the stealth-bomber-like chassis measures a substantial 280mm x 616mm x 660mm, weighs 15kg, and boasts a revolutionary stack-effect design that in theory will push air in parallel from bottom to top.
At its base, there's an isolated chamber for power-supply placement, above which you'll find two 180mm intake fans. From that point on, the chassis is largely sealed off, resulting in positive pressure and hot air doing what it does best - rising.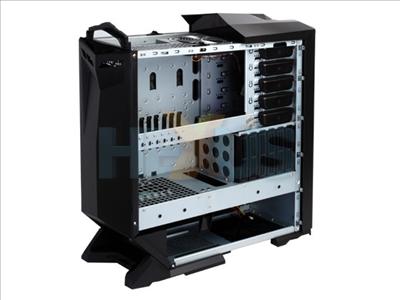 To make the most of the cooling design, the motherboard is installed at a 90° angle - and yes, that's the I/O panel up top. With airflow heading in one direction - up - it should make for a very efficient thermal solution, particularly if you're factoring in a couple of outward-venting high-end GPUs. As an added bonus, SilverStone states that sealing off the area surrounding the main components results in quieter performance, too, as there aren't a selection of noise-leaking vents.
Dust shouldn't pose much of a problem, either, a combination of positive air pressure and dust filters on the intake fans will result in little-to-no dust inside the chassis, says SilverStone.
It's an interesting idea that on paper looks promising. In addition to the 90° approach, it offers a selection of the high-end chassis features you'd come to expect, including a built-in cable management system, five push-button 5.25in drive bays, six removable 3.5in drive bays, easy-access top-mounted I/O ports, and pre-drilled access for water-cooling kit.
Intrigued? It'll be available next month at a suggested retail price of €159 + VAT, and we've included a selection of additional images on the following pages.