Introduction
When an Intel Core 2 Duo X7900 just isn't fast enough.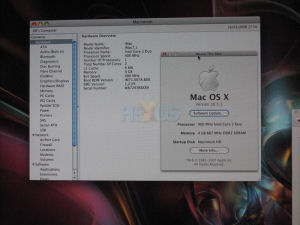 Although the attention at this week's Macworld has been focussed on the impossibly-thin Macbook Air notebook, measuring a scant 1.94cm with the lid closed, we reckon the all-in-one desktop iMac is rife for a makeover, Penryn-style. Mr. Jobs will probably announce such an upgrade in due course, but we've beaten him to the punch.

The current iMac, powered by Intel's mobile Core 2 Duo processors, ships as an integrated solution featuring either a 20in or 24in panel. The components are integrated into the base, much like laptops', and its cool aesthetic has won many over, including our editor-in-chief, David Ross.

Perusing Apple's specifications for its range-topping model, currently retailing for £1,459, we see that the lovely 24in model - packing in a 1,920x1,200 resolution - is equipped with an Intel Core 2 Duo mobile X7900 processor: that's a 2.8GHz, 800MHz FSB, 65nm dual-core CPU which is equipped with 4MiB L2 cache and a 44W TDP, if you want details. It's fast, cool, and provides more-than adequate processing power for the vast majority of tasks. Being mobile-oriented, quad-core models aren't yet in the offing, however.

Apple is one of the few manufacturers to make use of the unlocked-multiplier 2.8GHz Merom processor, we note, so any iMac user looking for a faster CPU will need to wait until the company rolls out a revised model with Intel's recently-released 45nm mobile processors, based on the Penryn core. We imagine that iMac update will coincide with the launch of Montevina - the Centrino update that's mooted for mid-2008.

What if you can't wait and want to know if a mobile Penryn CPU will fit right into your iMac? After all, the core enhancements are such that Penryn, equipped with 6MiB of L2 cache, offers a ~10 per cent performance boost, based on a clock-for-clock comparison against the incumbent 65nm Merom. What's more, the Extreme Edition fits in the same thermal envelope as the current model.

HEXUS' David Ross put his own iMac 24in on the line as a sacrificial lamb in the mobile Penryn experiment. Find out if it worked, dear reader......