Introduction
It is quite easy to run away with yourself and spend thousands speccing that dream PC build. Multiple thousands is no exaggeration, because a crème de la crème system can cost most than most readers' cars.
And it's therefore no surprise that all manufacturers push their top-tier products on us for review, where profit margins are fattest. It is a sad indictment that we don't review that many value PCs because sampling is so comparatively scarce. So it was with some interest that AMD came to us and requested that we examine just what can be achieved when spending the same amount as, say, a premium graphics card... on a whole PC base unit.
An intriguing idea, especially as said premium card - GeForce GTX 1080 - retails for about £600. Could we build a competent, well-balanced PC capable of playing the latest games at a 1080p resolution by spending as much as on a single component in a high-end build?
We're always up for a challenge, so at the turn of the year AMD came to us and set ourselves a maximum budget of £600, including operating system, and we spent just a few minutes at a retailer throwing components into our basket. We work closely with Scan Computers so it made sense to go to a single source and see what we could come up with.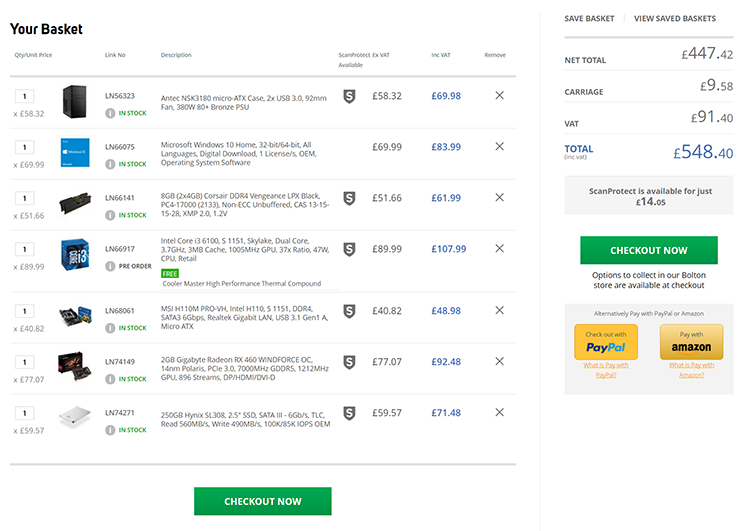 A spec that comes in comfortably below £600, leaving plenty of wiggle room; click to enlarge
The beauty of a self-build PC is the near-infinite amount of choice. If we asked all of our readers to submit suggestions for a £600/$700 base unit then we'd be surprised if any two were the same. We've gone for a safe build that offers enough room in the budget to tweak any component by going a model up or down.
It makes sense to go small in terms of size, and this is why the Antec NSK3180 gets the nod. Relatively easy to build into and featuring a capable PSU, it represents the backbone of a system. The choice of CPU may not be to AMD's liking yet it's hard to argue against a Core i3 chip. Solid in single-threaded apps and offering acceptable performance when stressed, this 51W chip is an ideal choice, while being a little cheaper than its newer Kaby Lake cousin. We reckon it doesn't make sense to go much faster/pricier because the gains are barely noticeable in a gaming-centric rig. We're also happy to stick with the supplied heatsink because it's barely heard when tasked with keeping the energy-efficient chip cool enough not to throttle.
8GB of dual-channel memory is an obvious inclusion, as is Windows 10, while the SK hynix 250GB Sata SSD is fast and reliable, according to our previous findings. Tying it all together is a sub-£50 motherboard based on the H110 chipset. There really is no need to go pricier when overclocking is not at the top of the requirements list. There's USB 3.1 for good measure, too, so while the newer 200-series makes more implicit sense, you'd also pay an extra £20 or so for a B250-based motherboard. Our advice will change as the pricing on Kaby Lake settles and Skylake goes end of life.
Being an AMD-focused piece, the star of the show, from a graphics perspective, is the Radeon RX 460 GPU. It makes good sense to spend up to 25 per cent of the overall budget on the GPU, meaning this Polaris 11 chip is the ideal fit. The 4GB card costs around £25 more and offers a modicum of futureproofing, which may come into play when framerate is generally good yet the amount of data flow is more than a 2GB framebuffer can handle.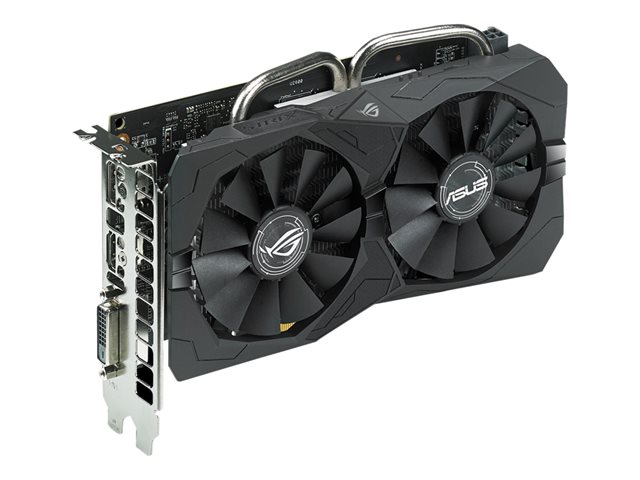 More than meets the eye - the 896/1,024-core RX 460
Yet there is a positive wrinkle in this mix. It's now clear that the RX 460, shipping since August 2016, is more than meets the eye. Every card sold thus far has been equipped with 896 processing cores, which is exactly how AMD specifies it. The underlying Polaris 11 die actually has 1,024 shaders, or 14 per cent more compute performance. Activating these extra, dormant shaders is remarkably straightforward. Simple-to-follow instructions on Overclocking.guide show you how it's done. The 15-second update activates the extra cores on an Asus Strix RX 460 OC without issue. However, since the Crimson ReLive drivers, AMD requires cards to have verified signatures, meaning changing BIOSes becomes tricker. Following some other instructions gets around this hurdle, and we had no problem running the latest ReLive drivers. Of course, you undertake this at your own risk, though we have subsequently verified that it works on the Sapphire RX 460 Nitro OC 4GB, too.
Back on point, tweaking the specifications a mite here or there still gives you enough budget - set arbitrarily, of course - to purchase a couple of a really good games. Appreciating that the RX 460 is capable of AMD's adaptive-framerate technology, FreeSync, one can add a 1080p monitor for just over £100, as well.
With the preamble over, let's see how well our quick build is able to mete our framerates in some lovely-looking games. Our twist is that, leading on from the above, we're comparing a Radeon RX 460 2GB vs. an RX 460 4GB vs. a GTX 1050 2GB. The comparison is fair and valid because the latter two cards often cost the same, and, interestingly, we're including numbers for the 1,024-core Asus, too. Want to know how it all shakes out? Read on.