Introduction



DFI, a company acronym that once denoted Diamond Flower International but has recently taken on to mean Design For Innovation, has, much like XFX, morphed itself from being a generic producer to an outfit that enthusiasts look towards when considering purchasing a new board for their PC.

A little bit of history about the company first. DFI-ACP was formed in 1981 and specialises in the design and manufacture of not just motherboards that our readers are familiar with, but also kiosk machines, all-in-one PCs (integrated panel and PC) and a number of industrial applications that fall under the remit of the ACP portion of the name. The group employs around 700 people and in 2000 was listed on the Taiwanese Stock Exchange.

DFI produces around 300,000 motherboards a month. That may sound impressive but the likes of Foxconn, ECS, and ASUS produce least ten-fold more, so DFI's considered a tier-2 manufacturer in the informal pecking order.

Like many, DFI's HQ is based on the outskirts of Taipei, and the intrepid HEXUS team took a cab out to meet the folks who, in the eyes of the enthusiast, have, with the LANParty line, transformed themselves into a producer of some of the most sought-after motherboards on the market.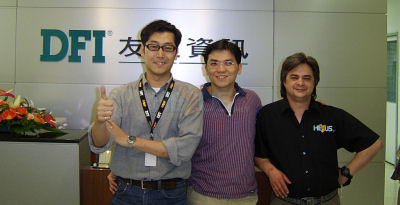 The welcoming committee was out in full force. In the middle is Jarry Chang, R+D manager of the current LANParty line, and one of the pivotal reasons for the growth of DFI's enthusiast-class motherboards.