AMD Ryzen product range

Model

Cores / Threads

TDP

L3 Cache

Base Clock

Turbo Clock

Process

PCIe

DDR4 Support

Package

Price

AMD Ryzen 9
Ryzen 9 3950X

16 / 32

105W

64MB

3.5GHz

4.7GHz

7nm

24

Dual 3200

AM4

$749

Ryzen 9 3900X

12 / 24

105W

64MB

3.8GHz

4.6GHz

7nm

24

Dual 3200

AM4

$499

AMD Ryzen 7
Ryzen 7 3800X

8 / 16

105W

32MB

3.9GHz

4.5GHz

7nm

24

Dual 3200

AM4

$399

Ryzen 7 3700X

8 / 16

65W

32MB

3.6GHz

4.4GHz

7nm

24

Dual 3200

AM4

$329

Ryzen 7 2700X

8 / 16

105W

16MB

3.7GHz

4.3GHz

12nm

24

Dual 2933

AM4

$329

Ryzen 7 2700

8 / 16

65W

16MB

3.2GHz

4.1GHz

12nm

24

Dual 2933

AM4

$299

Ryzen 7 1800X

8 / 16

95W

16MB

3.6GHz

4.0GHz

14nm

24

Dual 2666

AM4

$349

Ryzen 7 1700X

8 / 16

95W

16MB

3.4GHz

3.8GHz

14nm

24

Dual 2666

AM4

$309

Ryzen 7 1700

8 / 16

65W

16MB

3.0GHz

3.7GHz

14nm

24

Dual 2666

AM4

$299

AMD Ryzen 5
Ryzen 5 3600X

6 / 12

95W

32MB

3.8GHz

4.4GHz

7nm

24

Dual 3200

AM4

$249

Ryzen 5 3600

6 / 12

65W

32MB

3.6GHz

4.2GHz

7nm

24

Dual 3200

AM4

$199

Ryzen 5 2600X

6 / 12

95W

16MB

3.6GHz

4.2GHz

12nm

24

Dual 2933

AM4

$229

Ryzen 5 2600

6 / 12

65W

16MB

3.4GHz

3.9GHz

12nm

24

Dual 2933

AM4

$199

Ryzen 5 1600X

6 / 12

95W

16MB

3.6GHz

4.0GHz

14nm

24

Dual 2666

AM4

$219

Ryzen 5 1600

6 / 12

65W

16MB

3.2GHz

3.6GHz

14nm

24

Dual 2666

AM4

$189

Ryzen 5 2400G

4 / 8

65W

4MB

3.6GHz

3.9GHz

14nm

16

Dual 2933

AM4

$169

Ryzen 5 1500X

4 / 8

65W

16MB

3.5GHz

3.7GHz

14nm

24

Dual 2666

AM4

$174

Ryzen 5 1400

4 / 8

65W

8MB

3.2GHz

3.4GHz

14nm

24

Dual 2666

AM4

$169

AMD Ryzen 3
Ryzen 3 2200G

4 / 4

65W

4MB

3.5GHz

3.7GHz

14nm

16

Dual 2933

AM4

$99

Ryzen 3 1300X

4 / 4

65W

8MB

3.5GHz

3.7GHz

14nm

24

Dual 2666

AM4

$129

Ryzen 3 1200

4 / 4

65W

8MB

3.1GHz

3.4GHz

14nm

24

Dual 2666

AM4

$109
Making sense of Ryzen 3rd Gen
Ryzen 3rd Gen processors, based on Zen 2, are identified by by having the number '3' after the model range. Common amongst these new Ryzens is provision for higher frequencies compared to their progenitors, double the L3 cache, 7nm production, and memory support now at 3,200MHz. And, of course, the goodness that Zen 2 heralds. All offer support for PCIe Gen 4 and the extant AM4 platform, preferably on the also-all-new X570 chipset.
In all, there are six new processors. From the bottom up, Ryzen 5 class welcomes in the 3600 and 3600X. These carry the same six-core, 12-thread SMT processing as their 1st and 2nd Gen predecessors, while X and non-X ship with familiar 95W and 65W TDPs
Ryzen 7, too, keeps consistency between generations by having eight cores and 16 threads, and does the same minor frequency hike over Zen+ and Zen. TDPs are also in line with expectations. Some may have expected to see lower TDPs thanks to the 7nm process, but AMD has used any extra power headroom to drive the wider architecture and higher speeds.
Ryzen 9 is where it gets interesting for the true power user. This model nomenclature debuts with the Zen 2 architecture and brings more cores and threads to a mainstream platform than ever before. The 3900X, for example, has up to 50 per cent more grunt than the already-decent 3700X. One needs to invest in the more expensive X299 platform from Intel to match the multi-threaded muscle - popular, mainstream Z390 tops out with the 8C/16T Core i9-9900K.
If that's not enough, AMD is set to release a 16C/32T Ryzen 9 3950X in September. The impressive part here is that it's able to thrash that many threads, at nominally decent speeds, whilst keeping to a restrained 105W TDP.
The chips feature solder between the metal packaging (heatspreader) and underlying CPU and I/O dies, which is both welcome and interesting for a multi-chip module processor. The new Ryzens represent a slot-in upgrade for many users who have already committed to AMD's AM4 platform, whether that be the all-new X570 or many older boards.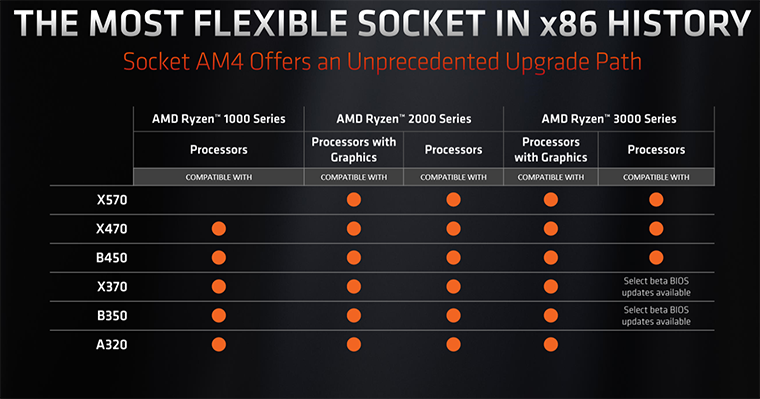 Speaking of AM4, AMD's made it clear there's not complete interoperability between every possible combination. Every 400-series board will support these new chips through a BIOS update, but the older X370 and B350's support is dependant upon the manufacturer.
Of course, AMD would prefer you to use the Ryzen 3000-series and X570 chipset combination for a new build because the duo enables PCIe 4 support from CPU through to motherboard, which is particularly handy if running the latest slew of high-performance SSDs.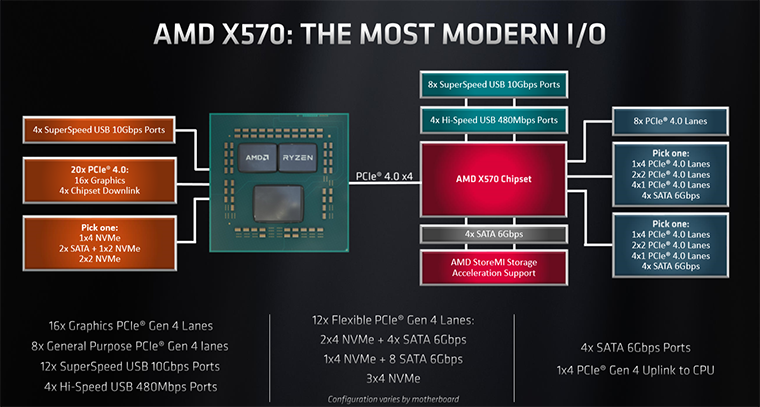 Here's the general overview of how the X570 chipset supports the latest Ryzen 3000-series processors. That's not to say that X570 is a one-trick pony; it also supports Ryzen 2000-series chips, though first-generation Ryzen 1000-series, also based on the same AM4 floorplan, aren't certified.
Flexibility meets cutting-edge connectivity
It is important to remember that the chiplet design calls for a CPU block and separate I/O block that carries various cutting-edge connectivity. AMD is free to add a second CPU block, composed of up to eight CPU cores, by connecting it to the same I/O block via Infinity Fabric. This is how the 12- and 16-core Ryzen 9 3900/3950X come into existence.
The X570 chipset, meanwhile, is also built by GlobalFoundries on the cheaper, more mature 14nm process. Here's the clever bit, and why all of this is referenced. The chipset is effectively a replica of I/O block of the CPU. The X570 and CPU I/O block, therefore, are one and the same thing from a high-level perspective.
X570 in detail - lots of fast storage potential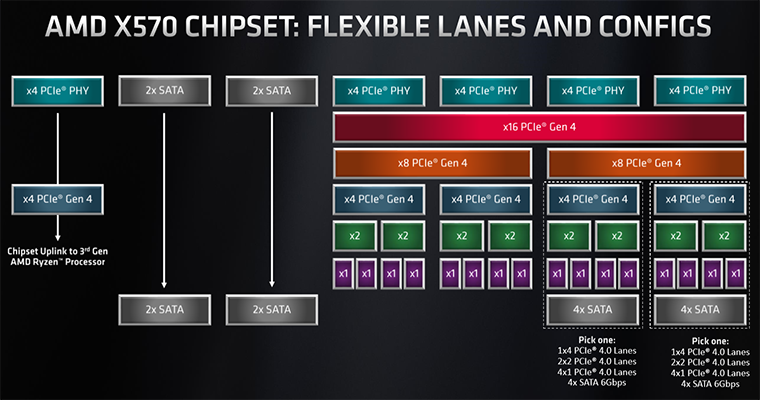 This I/O block-cum-chipset has its own repertoire of connectivity, and it offers plenty of implementation choice in its own right. AMD understands that SATA, whilst still popular, is giving way to a greater number of NVMe storage drives. This explains why the chipset has four regular SATA 6Gbps ports, rather than six.
PCIe laneage then becomes interesting. Most will choose to pull eight PCIe 4 lanes and apportion them for peripheral support. These eight lanes, shown directly to the right of the SATA ports in the above diagram, can be split right down to individual lanes, so when you see a couple of x1 lanes, electrically and physically, on X570 boards, they probably come from here.
Then X570 gives you choice for, ostensibly, how NVMe storage is configured. The mobo guys can choose to implement it in two blocks comprising of four lanes each. Each of these blocks give rise to various PCIe combinations - 1 x4, 2 x2, or 4 x1 lanes - or can be set to SATA, though unlikely.
Bear in mind that PCIe 4 doubles bandwidth compared to incumbent PCIe 3, so a 1 x4 configuration has just under 8GB/s of transfer ability. Appreciating that a raft of super-fast NVMe drives are coming to market, led by the Phison E16 and E19 controllers, most premium X570 boards will feature a couple of x4 M.2 slots for maximum speed. One could even add another from the Ryzen 3000-series CPU, too.
The salient point is that X570 has a lot of PCIe lanes running at twice the speed of X470. Want to build an ultra-fast storage subsystem on a mainstream socket? AMD's X570 is head and shoulders above the rest.