ARM Premium Suite
ARM has a rich heritage in designing the intellectual property (IP) that powers the majority of smartphones and tablets today. ARM has expertise in architecting the right CPUs, GPUs, interconnects and integration technology - the smart in the smartphone - and continues to push the performance envelope year on year.
Typically, ARM will announce an update to an IP block that will find its way into the premium mobile devices of the following year. Last, however, ARM has announced a complete update to the IP suite for the leading devices of 2016.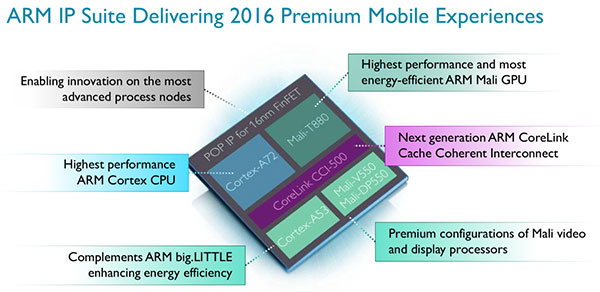 This mobile suite encompasses the ARM Cortex-A72 CPU, Mali-T880 GPU, CoreLink CCI-500 interconnect and POP IP for FinFET+ production. ARM's vast array of partners can select any of these technologies for their premium products for this year. Indeed, the whole gamut can be chosen as a simple, effective means of getting a product to market quickly and efficiently.
Though devices featuring the IP will be faster than ever before, the new premium mobile experience will also bring users the following benefits:
Console-quality gaming
Multi-casting UHD and 4K video streams
Local natural language processing
Redefined levels of content creation – including still image/video capture and processing
Improved battery life and better thermals thanks to better energy efficiency
Slimmer form factors
Arguably the highlight of the new suite of IP is the ARMv8-A-based Cortex-A72 processor. It is a 64-bit chip design that is fully backwards-compatible with 32-bit software. The key benefit of the new CPU is that it can provide 3.5x the performance of 2014 devices based on the potent Cortex-A15 processor. And where energy efficiency is key, the Cortex-A72 can deliver the same performance as the Cortex-A15 but with 75 per cent less power. What's more, the ARM Cortex A72 processor can be used in big.LITTLE processor configurations alongside the Cortex-A53 CPU to provide extended performance and efficiency.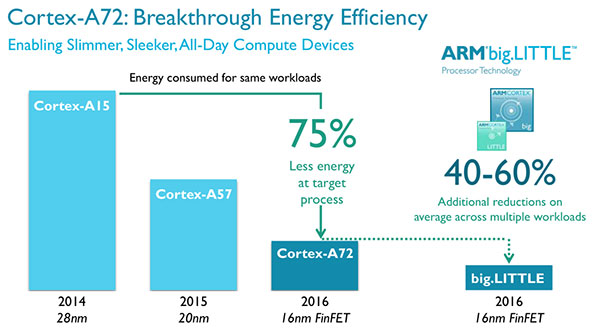 This is a big deal for tablets and smartphones because the Cortex-A72 enables applications to run more quickly and games to be more immersive. ARM, in effect, is continually removing the performance bottlenecks in a system by improving performance of each key part. Want games to look better? You want a quicker CPU and GPU. Want to genuinely multi-task on your premium tablet? You want a quicker, more capable CPU, and that's exactly what the Cortex-A72 is.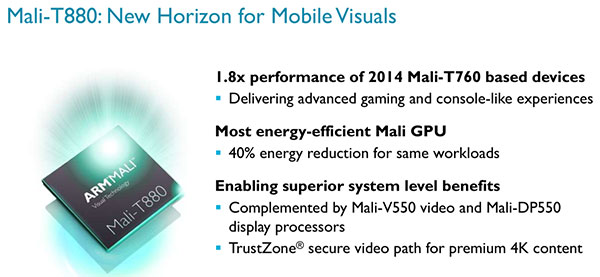 Going hand-in-hand with a better, more capable CPU is an equivalent GPU whose job it is to mete out lovely-looking visuals. Therefore a lot of the enhanced capabilities on offer from a mobile experience in 2016 will rely on the ARM Mali-T880 GPU. In numerical terms the new GPU delivers 1.8x the graphics performance of the commonly-used Mali-T760-based devices or a 40 percent reduction in energy consumption across identical workloads, according to ARM's own testing.
Together with the Mali-V550 video processor and Mali-DP550 display processor the new GPU can output to 4K 120fps resolution displays with high-fidelity 10-bit YUV support and handle hardware HEVC (H.265) decoding, rotation, scaling and post-processing. Premium 4K content is capable of being enjoyed and secured via ARM TrustZone technology.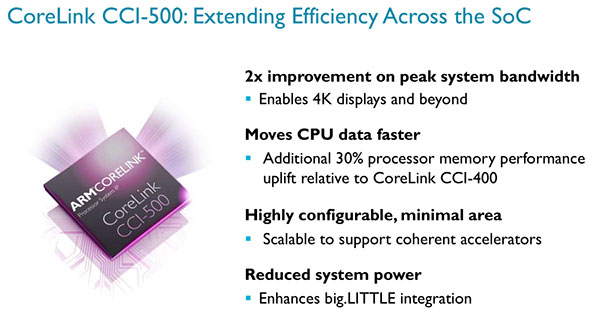 In an ARM-designed system-on-chip (SoC) leveraging the new CPU and GPU mentioned above, the CoreLink CCI-500 provides the all-important interconnects. This IP is faster and more energy efficient offering double the peak memory system bandwidth and a 30 per cent increase in processor memory performance compared to the previous-generation CoreLink CCI-400. Overall this improves system responsiveness, thanks to its acceleration of memory-intensive workloads such as multimedia content creation and consumption.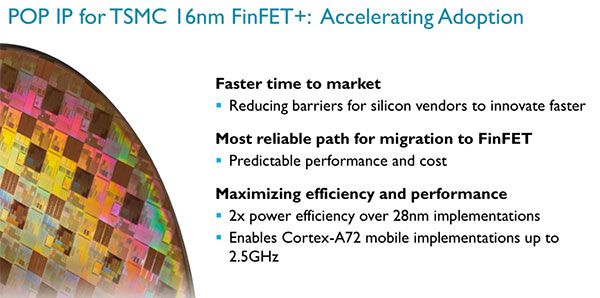 Further, ARM's POP IP can simplify vendors' work in migrating from 32/28nm process nodes to the TSMC 16nm FinFET+ process. With TSMC's new process ARM says that Cortex-A72 processors can scale to 2.5GHz in smartphones and higher in larger-screened devices with their typically bigger power envelopes. The Mali-T880, too, is also supported by POP IP.
Your next smartphone will be endowed with more CPU performance, enhanced GPU performance, and a better system architecture. Making all this possible in one fell swoop is ARM with its premium mobile experience suite of IP for 2016. Looking for a leading-edge device this year? Look no further than ARM IP.