ARM Everywhere
British company ARM designs the processors that run in billions of devices today. Its processor architecture powers many smartphones, tablet computers, microcontrollers, set-top boxes, networking products, games consoles, printers, digital cameras, modems, smart cards and storage drives. The list is practically endless, and it is safe to say that if a device requires a processor of some kind, ARM's wide range of designs provide various options that can be tailored to meet a specific need. Indeed, you may not know that smartphones and solid-state drives share a common trait of being powered by the ARM architecture.
A chip for all seasons
Putting the numbers into context, 12 billion ARM-based processors were shipped in 2014, up from just 420m in 2001. Though it is inevitable that chip sales growth will slow down, ARM has identified several markets - smartphones, tablets and set-top-boxes, for example - that, according to the latest estimates, are to continue experiencing 20 per cent-plus annual growth for the next five years. It is readily conceivable that ARM-based processors will be the beating heart of more than 15 billion chips sold in 2017.

And ARM-based chips are a plausible fit for any product that requires some form of basic intelligence. For example, it has been estimated that lighting consumes around 20 per cent of the world's electricity, so any reduction in energy expenditure, made possible by integrated ARM chips evaluating whether the lighting needs to be on at all times, is a sure-fire way of saving money. ARM, then, is in a unique position to leverage the ever-increasing need for smart devices.
Paradoxically, the very fact that ARM is not a household name is one of the main reasons why it has been so successful. The company doesn't manufacture a single processor and can be best thought of as a research and development powerhouse. ARM designs the chips that are manufactured on behalf of well-known companies such as Qualcomm, Texas Instruments, Nvidia, Apple, et al, though an eclectic range of smaller companies contribute to overall chip consumption.
The Far East connection
In particular, ARM is working closely with a number of Chinese and Taiwanese companies to facilitate the production of low-cost chips suitable for use in tablet computers, smartphones, e-readers and smart TVs. These chips are then sold on to original equipment manufacturers (OEMs), who assemble them into finished products that are sold in volume across Asia and, more recently, across the world. These lesser-known smartphones or tablets tend to run the same version of Google's Android operating system and thus typically provide the same functionality as, say, a Huawei or HTC device, albeit at a substantially lower price.
An example of such a collaboration of ARM's designs and a chipset manufacturer is Taiwanese firm MediaTek. The company builds processors and associated system-on-chip (SoC) platforms using ARM's Cortex CPUs and, mostly, with the complementary ARM Mali GPUs. MediaTek then adds various other processors - video encoder/decoder, display controller, networking, etc. - and then has the chip fabricated at a semiconductor manufacturing plant such as TSMC.
MediaTek's SoCs, for example, use existing, proven ARM technology such as the Cortex-A72 or Cortex-A53 processors in various configurations. These are mainly allied to ARM's Mali-T760 graphics and in-house video encoder/decoder.
Driving down cost
MediaTek is one of many such companies with a close collaboration with ARM. Rockchip, LeadCore and many others also use similar ARM blueprints for designing, customising and releasing their own SoCs. These smaller players help drive down the cost of mobile computing, so much so that it's possible to purchase a fully-functioning tablet computer, equipped with a variant of the Android operating system, for comfortably below £100.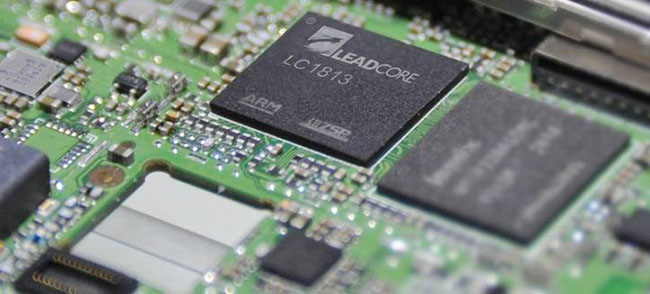 It is these same companies that will also help reduce the cost of entry-level smartphones - a fact that's hugely important for purchasers in developing countries. ARM's considered business model of licenses and royalties enables smaller companies to produce chips without having to invest tens of millions of dollars in setup fees; ARM realises that its success is inextricably tied in with the success of its 1,000-plus partners'.
But ARM is more than just a close collaborator with smaller Chinese firms. Huawei, for example, is a multi-billion-dollar company employing over 170,000 people. Huawei's HiSilicon division incorporates many ARM chips in its custom-designed SoCs, with the latest model, Kirin 950, using eight ARM CPU cores through the amalgamation of four Cortex-A72 and four Cortex-A53 cores in what is known as a big.LITTLE implementation.
The future
ARM spends most of its revenue in research and development for the next generation of processors. There's a clear roadmap for high-performance Cortex CPU and Mali GPU chips, with the two becoming closer entwined in future SoC implementations. Already the dominant intellectual property (IP) company in the design of low-power processors, there's every reason to believe that ARM will continue to play a leading role in small, energy-efficiency chips for the next decade.