Made Of The Right Stuff
The Lumia 620 is well-specified both inside and out. Making sure that the attractive body is put to good use, Nokia equips the device with a dual-core 1GHz Snapdragon S4 processor, 512MB of RAM and 8GB of internal storage. The latter can be expanded by a further 64GB through the use of an optional MicroSD card, and there's 7GB of cloud-based SkyDrive storage included as well.
The rich kids, or those living in sin with their flexible friends, will be quick to point out that the aforementioned specification pales in comparison to the smartphone elite. Technically, they'd be right - Nokia's own Lumia 920 is a vastly superior beast as far as internal components are concerned - but specification needn't rule the day. It's the experience that counts, and in that regard the budget Lumia 620 delivers.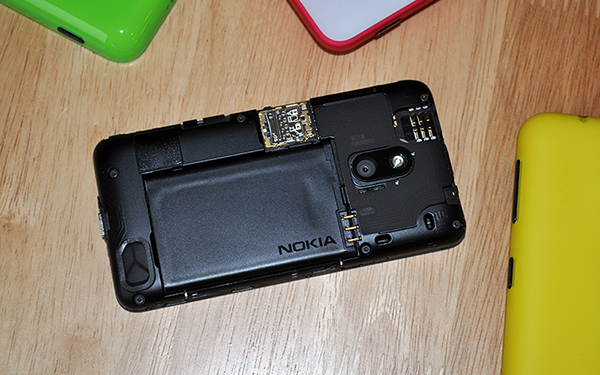 Handset performance feels great, and that's as much to do with the Windows Phone operating system as it is the underlying hardware. The Lumia 620 takes 1,441ms to complete the SunSpider JavaScript benchmark, while premium handsets will finish the same test in under 1,000ms.
Handset performance feels great, and that's as much to do with the Windows Phone operating system as it is the underlying hardware.

There clearly is a performance deviation, but thanks to the efficiency of the software, it's barely discernible during everyday use. Put the Lumia 620 alongside a Lumia 920 for a direct comparison and you'll find that apps load a touch quicker on the latter, but the fact that there's not a lot in it comes as a pleasant surprise. Nokia's budget handset feels smooth and fluid at all times - moving around the interface really is satisfying - and you never feel as though you're waiting around.

Unlike many other Windows Phones, Nokia has for the most part prevented the Lumia 620 from falling short in any one area. Lumia 920 - too big and heavy. Lumia 820 - looks boring. HTC 8X - no MicroSD expansion. HTC 8S - no front-facing camera.

Despite being the cheapest of the lot, the Lumia 620 doesn't show many obvious shortcomings. Sure, there's no 4G support and wireless charging hasn't made the cut (more on that later), but for £150 you're still getting smartphone essentials such as Bluetooth, Wi-Fi, accelerometer, compass and GPS, as well as a couple of added extras that include a five-megapixel rear camera, a basic front-facing camera and integrated NFC support.

Meeting Your Multimedia Needs

Channelling all this technology is a 3.8in LCD touchscreen display offering a basic 800x480 resolution that's in keeping with most other Windows Phones. Doesn't sound all that impressive, and let's be honest, it's a screen that isn't worth getting excited about.

Yet the display isn't bad. By packing the same resolution into a relatively-small area, the Lumia 620 is able to offer a greater number of pixels per inch (PPI) than its premium sibling, the Lumia 820 (245 vs. 217).

...the display isn't made of robust Gorilla Glass, and it also comes without Super Sensitive Touch, meaning you can't interact with the screen while wearing your gloves.

The panel is by no means cutting edge, but by including its ClearBlack technology, Nokia has provided a display with deep blacks, vibrant colours and good viewing angles. It's hard to ask for more in a £150 device, but that doesn't mean we can't; it's a shame the display isn't made of robust Gorilla Glass, and it also comes without Super Sensitive Touch, meaning you can't interact with the screen while wearing your gloves.

Watching multimedia content on the display is an enjoyable experience, and that's thanks in no small part to an accompanying speaker that's surprisingly loud. 20 decibels louder, in fact, than the top-of-the-line Lumia 920. Housed along the bottom edge of the device, the speaker is surprisingly good, as is audio recording courtesy of dual high-amplitude microphones.

If you prefer to enjoy your mixes without annoying everyone else on the bus, a 3.5mm jack is positioned at the top of the device and comes accompanied with Dolby Headphone processing and a seven-band equaliser.
Sign in for the best HEXUS experience
LOG IN