The first true gaming tablet?
Graphics company Nvidia has spent the last 10 years diversifying business away from the core desktop and laptop GeForce gaming brand known to most enthusiasts. Augmented with other processors such as Quadro, Tesla and Tegra, and therefore also playing in the automotive, embedded, high-performance computing, server, smartphone and workstation spaces, Nvidia has sensibly taken its core competencies into a multitude of related areas.
But while there has been significant traction for the system-on-a-chip (SoC) Tegra processor released in 2008 - harnessing ARM CPU cores and GeForce graphics - subsequent iterations have lost impetus and are found in fewer devices. Take the Tegra 4 as an example. Announced in early 2013 and shipping in devices about a year ago, it is found in fewer handsets and tablets than the Tegra 2 or 3. Competitors such as Qualcomm and a band of Taiwanese manufacturers have eroded Tegra's attractiveness in the eyes of tablet and smartphone makers; Google, we must remember, changed over from Nvidia to Qualcomm for the second-generation Nexus 7 tablet.
Common practice has dictated that mobile SoCs are sold to partners who construct tablets and smartphones available to end users or telecoms companies. Nvidia, somewhat surprisingly, changed this philosophy by releasing a branded tablet to the market in September of last year. Known as the Tegra Note 7 and powered by the Tegra 4 SoC, this tablet, sold at retail, was the company's first real foray of selling a consumer device directly to the customer. We'll come to why this is important a a little later.
Nvidia has a well-established roadmap for these mobile SoCs, with Tegra K1 replacing Tegra 4 and, looking to next year, Tegra 6 (Erista) pulling in an Nvidia-designed ARM 64-bit CPU core (Project Denver) alongside graphics from the latest Maxwell family. The current K1 SoC is interesting insofar as it uses an energy-efficient, reduced-core implementation of the desktop Kepler core - powering cards such as the GeForce GTX 760, 770 and 780 - allied to a quad-core ARM Cortex-A15 CPU. Nvidia reckons the graphics component of the K1 SoC is, by some distance, the best available.
The time is right for a gaming tablet
Wouldn't it make a lot of sense if, after trialling selling directly to retailers, Nvidia produced a gaming tablet based on the potent K1 architecture? Such a tablet could take advantage of the lessons learned from, say, the Shield and enable real product differentiation from the sea of other, powerful tablets already on the market.
The Santa Clara-based company is doing exactly this with the release of the Shield Tablet. Ready to roll at your favourite retailers on July 29 in the United States, August 14 in Europe and a month or two later for the rest of the world, Nvidia is using a combination of know-how from the original Shield handheld, experience built by selling directly, and gaming-specific features that, it hopes, will entice owners of GeForce GTX graphics cards to invest in what can legitimately be termed as the world's first true gaming tablet.
Shield Tablet - look, feel, and specification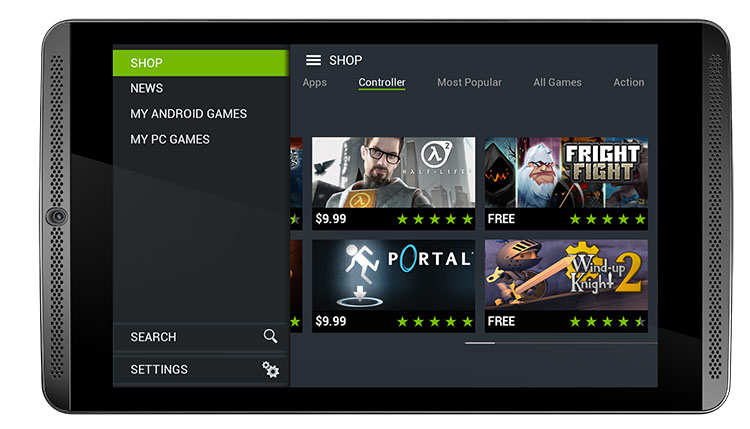 Nvidia Shield Tablet specs

Type

WiFi

LTE

Flash

16GB

32GB

SoC

Tegra K1

Memory

2GB

Screen

8in, 1,920x1,200

Storage expansion

MicroSD (128GB)

Connectivity

Bluetooth 4.0 LE
GPS/GLONASS

HDMI

1.4a (4K30)

Cameras

5MP front/rear

Dimensions

221mm x 126mm x 9.2mm

Weight

390g

Price

£239

£299
Nvidia isn't the first company to shoehorn in the Tegra K1 SoC into a tablet; that honour goes to partner Xiaomi with the Mi, launched in May 2014. Appearance-wise, Shield Tablet looks much like the Mi - both tablets sport an 8in IPS panel, are about 9mm thick and weigh in at under 400g. It is reasonable to assume that Nvidia took a lot of what it learned when working with Xiaomi and used it for the Shield Tablet.
But the drive towards a gaming-optimised tablet ensures Shield takes a different tack. Replacing the lush 2,048x1,536-pixel screen of the Mi is a 1,920x1,200 panel that, Nvidia says, maps more closely to the full-HD resolution - 1,920x1,080 - that gamers are expected to use. A lower-resolution screen implies lower costs of production, mind, but we were pleasantly surprised by the quality of the screen at a briefing event last week; it's crisp, clear and reminds us of the same-resolution screen present on the 2013 version of the Google Nexus 7 tablet.
Nvidia says the tablet body has been specifically engineered to tolerate higher TDPs required to keep the Tegra K1 graphics humming along at a top speed of 950MHz, and is 'up to 2x more efficient at cooling than other tablets on the market today.' This is achieved by using better heatsinks and more attention to cooling than present on competing models, we were informed, but do know the Shield Tablet remains a passively-cooled solution. The demonstration units were well-built and put together, consistent with the quality exhibited by rival tablets. The soft-touch back became no more than warm during gaming sessions.
Two versions of the Shield Tablet are available - a 16GB model with baked-in WiFi (dual-band 802.11a/b/g/n) retailing for £239 and a £299 model equipped with 32GB of memory and combined WiFi and Cat 4 LTE. We're not fans of the exchange-rate conversion; the entry-level Shield should cost £219, based on the strong pound. It's also a shame that 802.11ac isn't supported from the get-go.
Should the storage quotient not be enough, a microSD slot accepts 128GB cards, too. Bluetooth 4.0 LE, GPS and a 9-axis sensor are pretty standard fare these days. A front-facing 5MP snapper is joined by another on the rear. Both have the ability to shoot in HDR, with the necessary computation done on the GPU.
It makes implicit sense to have a couple of forward-facing speakers on a gaming tablet. They make a reasonable fist of conveying action and, from our limited time, have a bass heft that belies the tablet's lack of size. There's also a 3.5mm jack for headphones and room for a pressure-sensitive stylus. Rounding off the ports, mini-HDMI (v1.4a) can output to a TV or monitor at up to 4K30 while micro-USB is the usual charging conduit.