Introduction
German manufacturer Schenker Technologies is a household name in certain parts of Europe, but only recently has the firm made a concerted effort in cracking the lucrative UK market. It began by bringing the award-winning range of XMG laptops to our shores and is now following up with the launch of its first-ever tablet, the Element, priced from £239.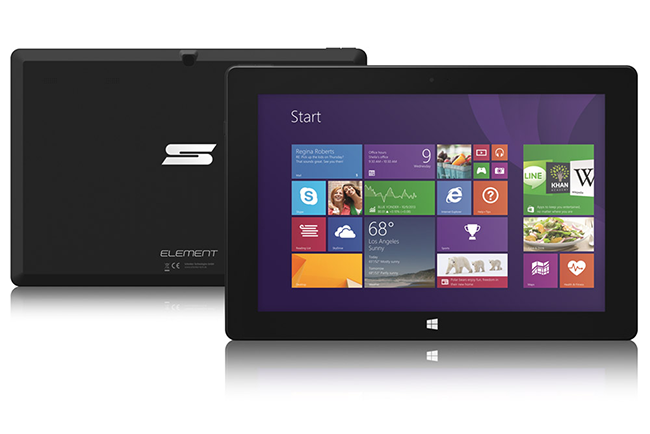 This 10.1in device runs full Windows 8.1, packs a quad-core Intel Atom processor, and claims to be fully equipped "for the professional or general user alike." But can a compact device such as this really harness the full capabilities of the Windows operating system? Well, the answer is part yes, part no, and we'll explain why.
Design and Specification
The Element is, as expected, a lot like most other tablets you've seen. It's reasonably thin and light, measuring 258mm x 172mm x 9.7mm in size and weighing 594g, and the 1,280x800 IPS display is surrounded by an average-sized bezel. Build quality is good throughout - the chassis will only flex if you apply real force - and there are no obvious squeaks or rattles.
A black gloss finish makes the front a bit of a fingerprint magnet, but the rear has a rubberised coating that provides a reassuring amount of grip and feels comfortable to the touch.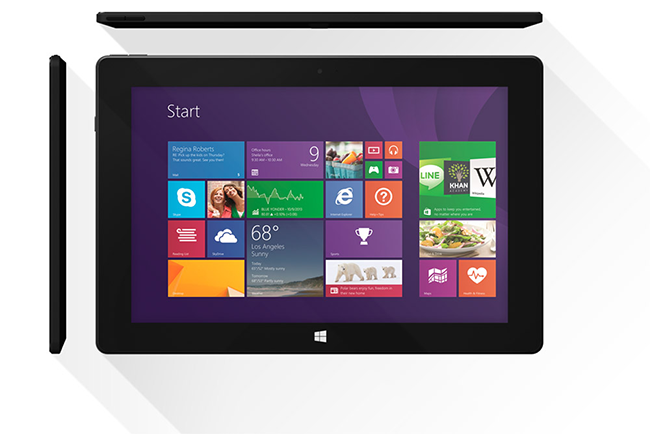 The only interruptions to the Element's front face are a two-megapixel camera and a requisite Windows button. Both work as intended, but neither excels at the task at hand. The front camera is basic in terms of picture quality - albeit ample for a casual video chat - and the touch-sensitive Windows button is hit or miss. We frequently had difficulty getting it to register, and when it does, it responds with an overly-enthusiastic vibration that's somewhat unpleasant.
A single two-megapixel rear camera with no flash adorns the back of the device - this too delivers below-average quality (sample 1, sample 2, sample 3) - and stereo speakers provide audio output.
Keeping the overall design looking sleek and simple, a volume rocker switch can be found on top, a docking port for the optional keyboard is at the bottom (more on that later) and the rest of the I/O ports line the Element's left side. These include a micro-SD expansion slot, micro-USB 2.0, mini-HDMI, headphone-out and a connector for the mains charger. All helpful additions, though it's a shame the USB port isn't of the SuperSpeed 3.0 variety - the current jack is fine for an external mouse or a basic USB dongle, but it will struggle to power current-generation external storage devices.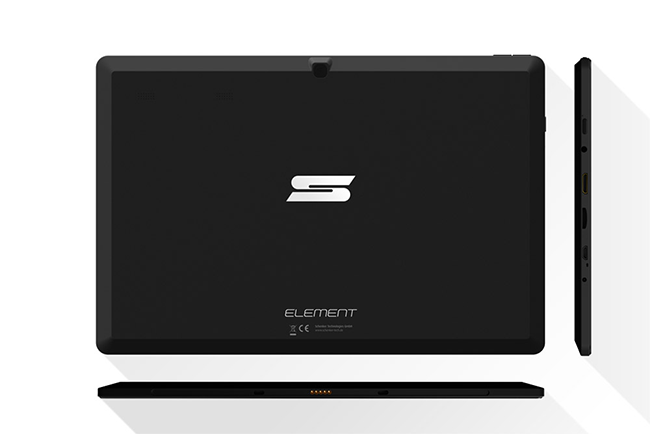 Schenker handily includes full-size USB and HDMI adapters as part of the bundle, and of course WiFi (802.11 b/g/n) and Bluetooth (4.0) are featured as standard. At launch, two versions of the Element will be available, with the entry-level model providing a 32GB capacity for £239, and a second £299 model offering double the capacity and built-in 3G connectivity. If you're looking for a tablet to use while out and about, the latter is the obvious choice.
On the inside, both models tout a quad-core, 1.83GHz Intel Atom Z3735D processor, 2GB of DDR3 memory and integrated Intel HD graphics. The Atom CPU is a low-power part from Intel's latest-generation Bay Trail product line that carries a 2.2W SDP (Scenario Design Power) and is aimed squarely at entry-level tablets. It supports a maximum of up to 2GB of memory and provides HD Graphics from the older Ivy Bridge architecture, meaning just the four execution units and a maximum GPU clock speed of 646MHz.
Given the 2GB memory ceiling, Schenker opts to install a 32-bit version of Windows 8.1 and also throws-in a genuine value add in the form of a year's subscription to Microsoft Office 365 Personal. This, ultimately, is never going to be the quickest Windows 8 tablet - the underlying components aren't comparable to, say, Microsoft's own Surface device - but the Element is keenly priced and holds a good amount of promise for £239.