Performance
Screen
Asus actually has multiple models in the ZenFone 4 range. The standard model, reviewed here, is outspecced by the ZenFone 4 Pro, and that features a 5.5in AMOLED screen with a touted 500-nit brightness across the 1080p resolution. The standard model drops punchier AMOLED for basic SuperIPS+ LCD but does up the brightness wick to 600 nits across the same 1080p. There's no funny business with aspect ratios, either, and 16:9 feels familiar.
Bezels are kept to 2.1mm, so barely noticeable, though the comparatively thick bezels on the top and bottom give it a smaller screen-to-body ratio than most other premium smartphones. In other words, the phone is significantly taller than the screen.
Though a step down from the Pro version, the screen is able to produce strong, vibrant colours, especially once you start having a play with the configuration options within ZenUI. The 'Vivid' choice, in particular, offers some nice visuals that are consistent across the entire screen. However, switching to a handset with an OLED screen shows that ZenFone 4 can't compete with respect to inky blacks and eye-popping colour. Bottom line: the screen is good for an LED but no match for a quality OLED.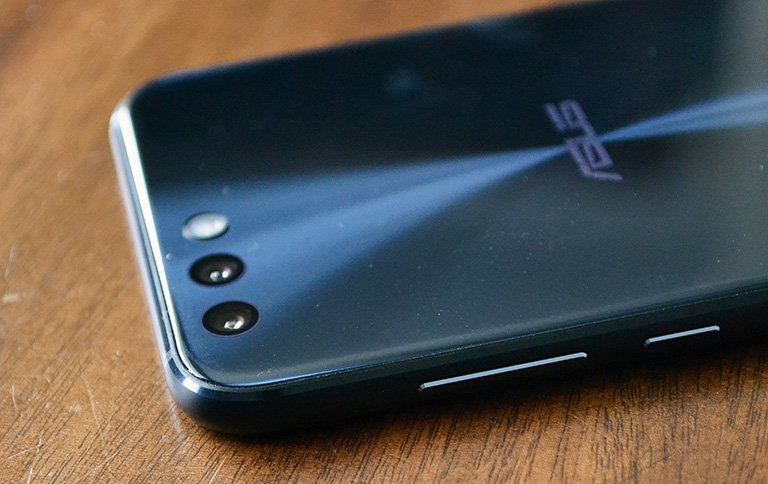 Slim, yes, and no protrusions
SoC muscle and Software
This is an area where the ZenFone 4 is underpowered compared to rivals occupying the same pricing levels. The phone uses either a Qualcomm Snapdragon 660 or 630 outfitted with Adreno 512 or 508 graphics, respectively. Based on the older ARM Cortex-A53 technology, the eight-core CPU peaks out at 2.2GHz, and it is slower and less efficient than the Snapdragon 835 silicon in many premium handsets today. The same performance diminution can be attributed to Adreno 508 when compared directly against Adreno 540. The UK model ships with 4GB of RAM and 64GB of storage.
General Performance

Application
Asus ZenFone 4

Razer Phone

Huawei Mate 9

SoC

Snapdragon 630

Snapdragon 835

Kirin 960

Geekbench Single Core (score)

868

1,929

1,858

Geekbench All Core (score)

4,180

6,777

6,441

3DMark Sling Shot Extreme (score)

828

3,751

2,368

Ice Storm Unlimited (score)

16,911

41,453

28,257

PCMark Work 2.0 (score)

5,081

7,377

6,281

Speaker Volume (dB)

70.6

84.2

73.6

Restart Time (seconds)

29.3

29.3

28.4

Brightness (cd/m²)

306

247

445

Charge in 30 minutes (percentage)

25-44

25-53

25-69

Battery Life (h:m)

8:14

7:46

9:38
Though touted as premium, the Snapdragon 630 isn't in the same performance league as Qualcomm's own 835. The biggest difference, arguably, is the graphics, with the ZenFone 4's Adreno 508 fundamentally slower than 2016's Kirin 960 inside a Mate 9. Benchmarks tell you one thing, but using the phone for the best part of a week is more instructive. Pages load quickly enough, basic games play fine, and the difference in class is only apparent when having a glut of applications open. Put simply, the muscle behind the ZenFone 4 will be good enough for most.
Outside of sheer muscle, battery life is good - it loses very little charge in standby - brightness is reasonable if unspectacular - the Mate 9, for example, is much brighter at full gas - while the handset has a satisfyingly decent amount of volume and, to my ears, above-average clarity and heft. It's no Razer Phone, of course, yet it doesn't sound overly tinny, and it's rather good through a quality set of earphones. One downside, however, is the relatively slow charging speed, probably down to having insufficient amperage going through the USB port.
As I have alluded to above, Asus takes Android Nougat 7.1 and adds its own skin on top. Known as ZenUI 4.0, Asus thankfully refrains from filling the operating system with unnecessary bloatware. It's not perfectly clean but is an improvement over previous generations. Having personally used a fairly stock interpretation of Android for a while, ZenUI tinkers with it quite a lot, specifically in the settings menu, which can be confusing for those migrating over to the Asus ecosystem. As is often the lament, I'd wish handset-makers would leave the base Android OS alone: it's clean, fast and intuitive.