Screen, Sound, Performance, Software
This is what Razer hopes will set its phone apart from the competition. The 5.7in screen uses a standard 16:9 aspect ratio and packs in a 2,560x1,440 resolution. Nothing overly remarkable in that, but Razer's ace in the pack is a combination of mating a 120Hz refresh rate - double that of most smartphones - to in-house adaptive frame-rate technology called Ultramotion. The concept is similar to the advancements made in the PC space where Nvidia and AMD have both rolled out their stutter- and tear-free technologies known as G-Sync and FreeSync, respectively.
Razer is the first to bring it to a smartphone, and it works by matching the GPU's frame output to the screen's refresh adaptive refresh rate. The result, if done properly, is buttery-smooth visuals that all gamers can appreciate. Sounds good in theory, but how does it do in practise? The frame-matching tech is on by default, though one can set the refresh rate to 60Hz, 90Hz, or 120Hz, ostensibly in the interests of prolonging battery life.
I ran a collection of common games with the refresh rate set to each parameter. GP Riptide 2 feels smooth at 60Hz but, perceptibly so, smoother at 90Hz and 120Hz. The biggest gains in smoothness come more from the Ultramotion technology than sky-high refresh, in my opinion, and it works well. Razer's bombastic claim of 'so we built a smartphone with gamers in mind and with unbridled performance' isn't far fetched.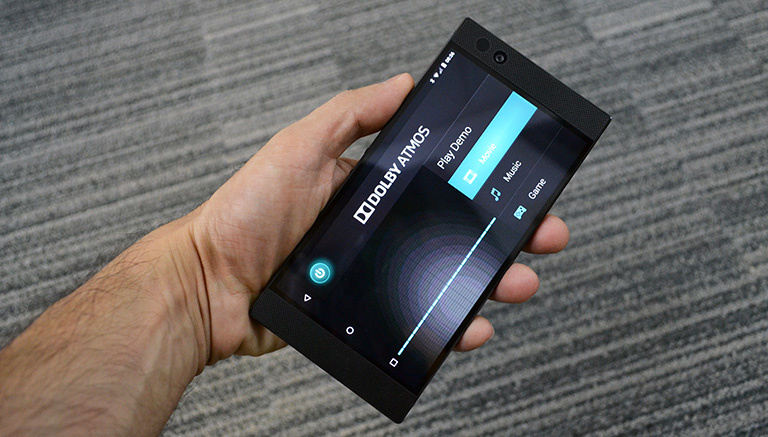 Buttons feel a tad awkward, but damn, those speakers are impressive
But it's not all gravy. There are only a limited number of games where the Ultramotion technology truly makes sense, mostly due to the current state of Android games, so this is a niche feature targetting gamers already au fait with Razer's gaming credentials. Can't blame the firm for trying. And should a game begin to stutter heavily for other reasons, such as processor-intensive tasks being done in the background, the technology becomes mostly redundant.
The same Ultramotion technology is also useful in day-to-day work, however. For example, the refresh rate reduces markedly when idling browsing pages then increases if scrolling quickly through content, with the framerate-matching tech run oblivious to the user.
Though excellent in gaming regards, the screen isn't perfect. At peak brightness it is markedly dimmer than many rival smartphones, with a clear and obvious disparity between it and, say, my Huawei Mate 9. A quick test with a Spyder 4 Elite display calibration tool showed the Huawei to be 80 per cent brighter at full gas.
And I don't know if it's just me but the Sharp panel appears to sit lower into the casing than other premium handsets' screens. A Mate 9's panel, for example, appears to be floating right on the glass; the Razer feels a millimetre or two lower, and it's obvious when looking at them side by side.
The speakers are the most outstanding portion of the Razer phone. The volume and clarity of sound belies the smartphone form factor, and it is no stretch to say that they run rings around most laptop speakers. There's adequate heft from the pair located at each end, too, surprising everyone whose had a chance to listen to the Razer strut its stuff in the Dolby Atmos demo. I thought the Mate 9's speakers were great, but they're no match for the Razer. In fact, you can seriously annoy fellow passengers on a train by having the volume just turned up to half, as I realised during a recent journey.
Super-slick visuals, adaptive-framerate technology and hugely impressive speakers are most definitely the strong points of the phone, and there's plenty of horsepower to drive it along.
Snapdragon Muscle and Performance
Under the hood, Razer doesn't skimp on the muscle. The phone packs in Qualcomm's Snapdragon 835 system-on-chip (SoC) that, in one form or another, powers a glut of premium handsets in 2017, including the Samsung Galaxy S8, Sony Xperia XZ Premium, Google Pixel 2, Nokia 8 and so on. Backed by 8GB of system RAM and 64GB of storage as standard, Razer's phone shouldn't be found wanting for everyday tasks, while the baked-in Adreno 540 graphics offer class-leading performance for an Android-powered device.
General Performance

Application
Razer Phone

Huawei Mate 9

Geekbench Single Core (score)

1,929

1,858

Geekbench All Core (score)

6,777

6,441

3DMark Sling Shot Extreme (score)

3,751

2,368

Ice Storm Unlimited (score)

41,453

28,257

PCMark Work 2.0 (score)

7,377

6,281

Speaker Volume (dB)

84.2

73.6

Restart Time (seconds)

29.3

28.4

Brightness (cd/m²)

247

445

Charge in 30 minutes (percentage)

25-53

25-69

Battery Life (h:m)

7:46

9:38
Selective benchmarks do indicate that Snapdragon 835, reproduced in the Razer through an optimum implementation geared towards performance, isn't found wanting. Pure CPU grunt is on a par with the Kirin 960 inside the Huawei from last year, and the Adreno graphics are as good as you're going to get on an Android device
Outside of pure performance, taking around 30 seconds for a full restart is about average for a premium Android handset, and I've already commented on the only real negative of the screen: sub-par brightness that's immediately apparent when compared to any solid rival.
Razer uses Quick Charge 4+, a feature present in the Qualcomm chipset, but I found charging to be not as fast as I'd hoped. The phone went from a 25 per cent charge to 53 per cent with a 30-minute burst, compared to 25-69 per cent for the also-benchmarked Mate 9.
And battery life itself isn't stellar for a handset shipping with a 4,000mAh capacity, as I alluded to earlier. With the screen set to a 50 per cent brightness - and remember that it isn't overly bright in the first place - it lasted under eight hours during the PCMark Work 2.0 test. A decidedly average return for a premium smartphone. That said, in a more informal test, it did manage to go through an entire Saturday of reasonably frequent, sometimes heavy use without requiring a top-up.
Software and Optimisations
Razer ships the phone with Android 7.1.1 Nougat with the promise of updating to 8.0 Oreo in 'early 2018'. Razer adds in the Nova Prime launcher above a stock build of Android and not much else, thankfully from my point of view.
Other than a few games, the main differentiator for Razer is its Game Booster suite that controls the phone's power states and enables basic per-app control.
And that's your lot. This is Android with a minor sprinkling of Razer optimisations on top. I had expected to see more in the way of syncing up with the PC-centric Synapse utility that Razer has invested heavily in, but as a first go, Razer does the right thing by keeping it simple.