Motorola mayhem
Motorola has debuted 7 Android phones including the Droid Pro, designed to appeal to BlackBerry users.
Motorola claims it is 'the first ever smartphone built on Android for business' and has been pimped for business users with security safeguards normally associated with BlackBerries. It also boasts a unified calendar and pre-loaded QuickOffice Mobile Suite.
The phone has built-in support for Authentec IPsec VPN integration so each IP packet is encrypted and also has the ability for a user to remotely wipe the phone. Motorola said it will also add full SD and device encryption for the device in 2011.
The Droid pro has a 1GHz processor, 4GB of memory including 2GB removable, Adobe Flash Player 10.1, multi touch 3.1 inch screen and all running Android 2.2. It will also act as a 3G hotspot for up to 5 other Wi-Fi devices. Unlike the old Droid with its slide-out Qwerty, the new model has a fixed physical keyboard below the screen. Here's a pic: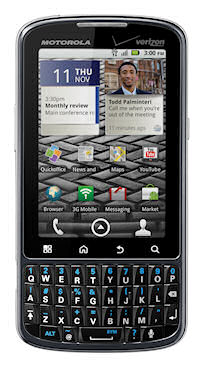 Motorola has also rolled out 6 other smartphones: Citrus, Spice, Bravo, Flipside, Flipout and Defy which all run Android 2.1
Citrus is designed as a compact and budget starter offering with quick access to social networking and Google apps.It has an on-screen Qwerty keyboard and a touch screen display as well as a Backtrack touch panel on the back of the device that lets users scroll through pages without interfering with the display. Check it out.