Friendly Plus
2) Friendly Plus
• £0.69
• Category: Social Networking
• Updated: Apr 23, 2011
• Current Version: 3.5.1
• 3.5.1
• Size: 3.2 MB
• Language: English
• Seller: oecoway inc

69p buys you the ad-free version of Friendly Plus; and like MyPad+ it supports the camera for photo uploads, while also adding a simple photo editor and numerous effects and filters, such as the ability to turn your photos into black and white. The live news feed updates very quickly and the interface is easy to navigate.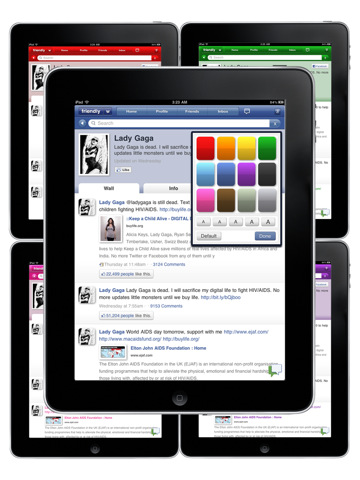 Push notifications are limited to birthdays only and it lacks a side-scrolling function for viewing people's pictures but, unlike MyPad+, you can edit your profile and associated picture easily. Friendly Plus also supports multiple logins, chat and the ability to customise fonts and colours to your preference.

Friendly Plus has been prone to chat-loading issues and connection problems, but new updates appear to have fixed the issues. Friendly Plus is a slick-looking Facebook app that stands out from the crowd due to the photo-editing functionality - basic though it is - and ability to access profiles and customise the interface.