Taking Spyro back to his roots...


The Legend of Spyro: A New Beginning is the latest game in the Spyro the Dragon series and acts as a prequel to the original game. The cute purple dragon is on a journey to discover his roots and locate the home from where he was once snatched. When Spyro was a mere egg he was taken away from his motherland by dragonflies in order to save him from the clutches of an evil dragon, called Cinder. Spyro is now old enough to stand on his two feet and discovers he has the powers that will enable him to defeat anyone who stands in his way on his search for the truth. Spyro finds more than he bargains for as he encounters frost monsters, skeletons, bugs and baboons in a series of frantic battles across colourful, detailed landscapes.

Previous Spyro games have featured large platforming and puzzle solving elements, but in this latest instalment, Krome Studios have moved with the times in an attempt to re-invent the series by focusing far more on combat as Spyro takes on a plethora of re-spawning enemies and end of level bosses

The journey begins when Spyro inadvertently discovers that he has the power to breath fire. His dragonfly family are forced to reveal the truth about his past and Spyro decides to leave the swamp in search for his original home with his friend Sparx.On the journey to his homeland he learns of a prophecy that puts the fate of the world in his hands.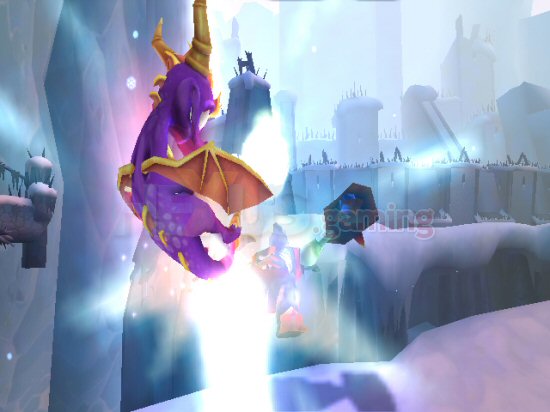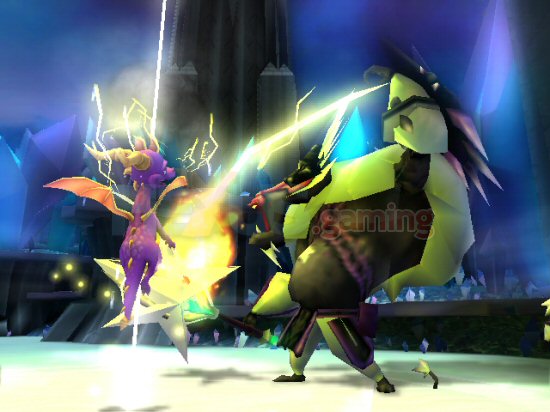 The style of the game is very Disney-like, with excellent production values, a decent storyline that should capture children's imagination and some superb voice acting from the likes of Elijah Wood (Spyro) and Gary Oldman (Ignitus). Gary Oldman steals the show as Ignitus and proves why he is one of Britain's finest actors with an unblemished, humorous performance which is the highlight of an otherwise average adventure game.