Still doing the business...


While EA have given FIFA '07 a full technical makeover, the guys from Konami have opted for more subtle changes in Pro Evolution Soccer 6. After reviewing FIFA 07 a few weeks ago we were impressed with how EA had managed to bridge the gap between the two titles, but what we really hoped for was to see Konami taking further steps in the right direction by making Pro Evolution Soccer 6 the best soccer title ever. Let's take a look…

In Pro Evolution Soccer 6 there are more officially licensed teams than ever before and you'll now see the official kits from the likes of the Czech, French, Australian and English national sides. You'll still be playing with the likes of Manchester Blue and Lancashire, and while it doesn't affect the gameplay in any way, it's slightly takes the edge of things when you get drawn against a made-up team name, like Berkshire Blues, in the FA Cup semi-finals, but we've coped with it in the past.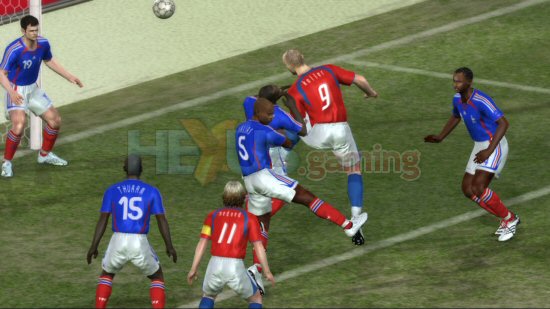 Click for larger image



The lack of licensing does take something away from the authenticity of the game, and even though the gameplay is still as great as ever, the limited functionality of some of the features in the game is extremely disappointing. The editing features that appeared in previous Pro Evo games and are available in the PS2 version, including editing players and teams, have disappeared. Why Konami have decided to omit this option in the Xbox 360 version is beyond our comprehension and playing in a team with Wayne Raanie up front is an unnecessary annoyance that could easily have been avoided. Aside from this frustration, Pro Evolution Soccer 6 is still an engrossing game of football.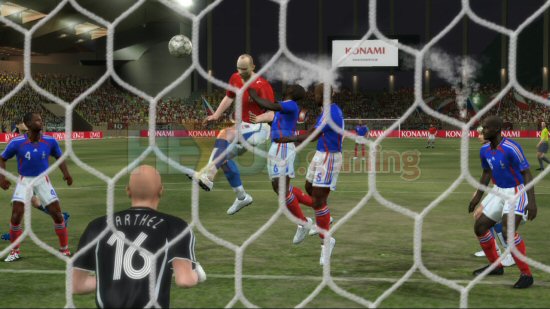 Click for larger image



The overall presentation remains practically the same and on match days you'll be choosing formations and tactics via the same trusty system as before and delving into the transfer market in career mode.

At first glance, there appears to be little change to match days. The graphics have been improved when it comes to the entrance scenes and the short cut-scenes that show sending–offs or free kicks being awarded, but the difference isn't worlds apart from the last Pro Evo incarnation. On the pitch next-gen shading techniques have been included, meaning that on a bright day the sun casts a shadow across the pitch and shadows from the player's movements are accurately recreated. There are also far more animations than before, such as players cheekily grabbing the ball for a throw-in when it blatantly came off them. Overall it's a bit of disappointment that the shift to the next-gen console hasn't resulted in more obvious changes; the crowds still look static during the matches and apart from the rotating advertisement boards around the sides of the pitch, a quick glance off-pitch is a fairly bland experience.