Emergence Day has arrived...


Finally, after the long wait and all the hype, Emergence Day has arrived…

Gears of War focuses of humankind's efforts to survive against the menacing Locust Hordes who are intent on wiping out humanity. The Locust Hordes have surfaced from the bowels of the planet and provide a stern challenge as you embark on a journey of cinematic proportions across a war-torn environment of crumbled buildings, ruined monuments and underground caverns, encountering many evil looking creatures who won't think twice about blasting your head clean off with a shot gun or using their chainsaw bayonets to slice you in two. Gears of War is a thrilling action adventure (made even more intense if you step up to the tricky 'Hardcore' mode) that keeps you on tenterhooks as you anxiously wait for the next influx of remorseless enemies to attack and try your damned hardest not to bite your fingernails as you anxiously move around the creepy, atmospheric environments knowing that the next unwelcome surprise could be just around the corner. Gears of War is a third person tactical shooter with a small puzzle solving element. It's the game that has been hyped almost as much as Halo 3 and finally we know why.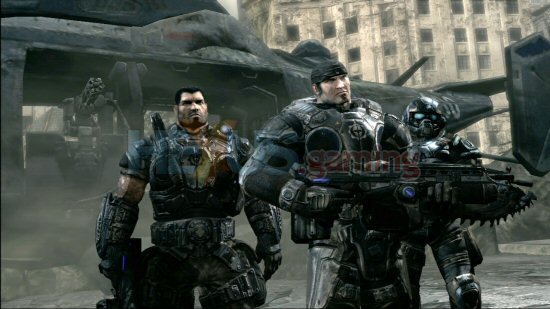 Click for larger image



Epic Games have managed to create an electrifying blend of glorious visuals, powerfully intense gameplay and extremely impressive AI. Gears of War does have its faults; but this absorbing, occasionally frightening and often head-shakingly brilliant game will be talked about for many years to come.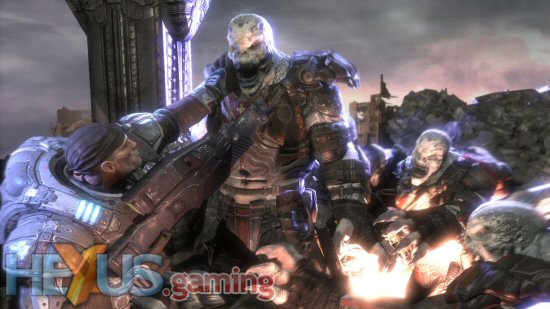 Click for larger image



In Gears of War you take on the role of Marcus Fenix, a disgraced soldier and ex-prisoner whose been called upon to help mankind win the battle against the evil Locust hordes. Marcus seeks personal redemption as he leads his fire team against an onslaught of merciless warrior fiends.

Let's take a look...