Knock them down and watch them fall
Defending is now more about following players' movements and pushing them away from areas where you may be vulnerable than it is about tackling recklessly - like an angry Joey Barton or flustered Rooney. The change is initially confusing, but the result on the pitch makes for a more realistic and tactically challenging game of footy.

The Precision Dribbling System allows you to combat these tough defensive stances better than ever before, making matches unpredictable and exciting. You'll find yourself intently watching the movements of other players because they're more likely to try and take you on now that dribbling is more responsive.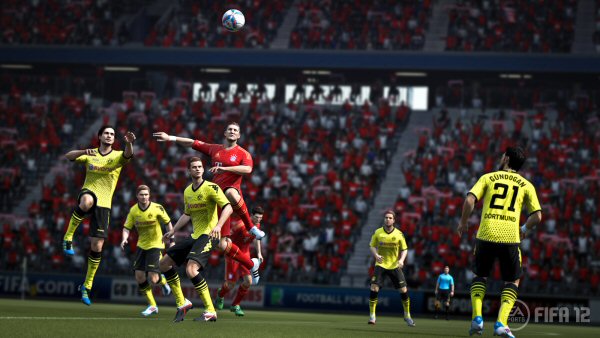 Visually, FIFA 12 is slightly more polished than last year's game, with one particular change. The new Player Impact Engine changes the visual dynamic of the game to deliver a more natural sequence of bumps, shoulder-barges and tackles, representing EA's intent on making FIFA more realistic with each iteration.

The interface is more vibrant and easy to navigate, character models and stadiums are impressively rendered, and spectators still appear as clone-like cardboard cut-outs, but it's the fact that players display a more natural physical reaction to tackles and scrapes that takes centre stage in terms of FIFA's 12 visual impact.