Save the world from the comfort of your car
As a mature gamer who usually gets a thrill from the likes of first-person shooters and RPGs, reviewing a kid's game is usually one of my least favourite tasks. Disney, however, has helped to change my mind somewhat in recent years by creating movie tie-ins that aren't just aimed at kids but endeavour to get the whole family involved. Toy Story 3, with its slick, entertaining missions is a perfect example of this new focus, and thanks to its immersive open world universe and Toy Box mode, which allowed you to customise to your heart's content, there was plenty of depth to appeal to the big kid inside me.

The good news is that Disney has continued in its endeavour to strike that balance in Cars 2 by ensuring there's something for everyone to get involved in. While the colourful Cars universe and quirky characters will keep the kids entertained, adults too can partake in some enjoyable Mario Kart-style shenanigans around the tracks, while the whole family can come together to battle against each other in an excellent 4 player split-screen multiplayer mode.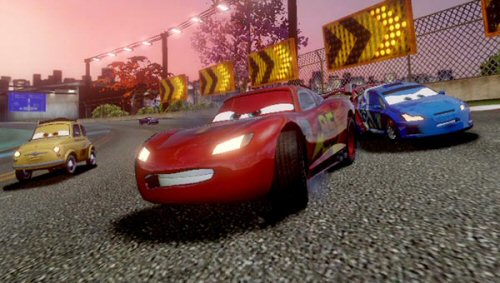 The storyline loosely follows that of the movie with Lightning McQueen and Mater joining a spy organisation in an effort to save the world from the evil Professor Zündapp. It's a thread-bare storyline that acts merely as a reason for the cars to partake in a series of challenges as you train to become a worthy spy, but there's plenty of humour from the cast of characters and the universe mimics Pixar's colourful on-screen creation with a lot of style. There's a whopping 35 cars to unlock in a career mode, which boasts Pixar-quality animations and a variety of entertaining tracks, including a depiction of London complete with familiar landmarks such as The London Eye and The Houses of Parliament.

Continued overleaf...