More cars, more locations, more routes and more events
Version played: Xbox 360

What is DiRT 3?
DiRT 3 is the third game in the DiRT series and the eighth title to spawn from the long running Colin McRae off-road racing franchise. The main single player campaign is tour mode, in which you compete in a variety of event types, including rally cross and point-to-point races, earning reputation points along the way to gain access to the higher-tiered events. There are also a number of game modes new to the series, including Gymkhana and a host of mini-games designed for pick-up-and-play appeal and quick thrills.

As you progress through the campaign, you gain access to more powerful vehicles, which you can deck out with new liveries and upgrades, as well as tweak every aspect of their performance from the downforce to the brakes. There's now double the track content compared to DiRT 2 taking you to new locations such as Kenya and Finland, while the addition of new cars, such as the Audi Sport Quattro and Kris Meeke's 2009 Intercontinental Rally Championship winning Peugeot 207 S2000, adds to the already heaving roster of class-based rally cars, which range from the compact mini-cooper to the bouncy snow buggies.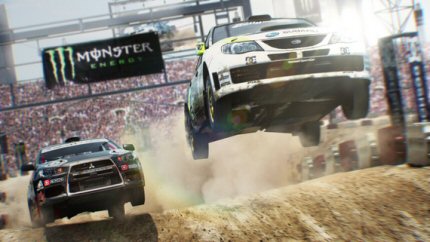 Key Features
Gymkhana Mode - The face of DiRT 3 is professional rally racer Ken Block, who specialises in Gymkhana, an exciting form of extreme sports where you have to manoeuvre your car through a predetermined track performing advanced driving techniques, including drifting, 360 degree spins and figure 8s.

Party Modes –Who would have thought we'd ever see a 'Capture the Flag' mode in a driving game? DiRT 3 boasts 3 multiplayer party games, including 'Invasion' in which players drive around an open lot, crashing into cardboard robots while avoiding cardboard skyscrapers, and 'Outbreak,' which is a 'zombie' mode that tasks one infected person with spreading the infection to other drivers by crashing into them - the one who survives the longest wins.

New look and edge – From the locations and car models to the brand spanking new menu system, DiRT 3 has received a shiny lick of paint. On the track, a new tyre modelling system affects handling depending on the surface your driving across, meaning you have to adapt your driving skills depending on the terrain. Meanwhile, the dynamic weather system means a mud-making, game-changing downpour could occur at any time.

Online Play – In addition to the new multiplayer party modes, there's a customisable online arena where you can use any of the classes, courses, or event types from the single player game. A two-player split-screen mode allows you to play with friends.

YouTube uploads – After each race you have the option to upload your clip to YouTube for all to see. Expect to see some spectacular multiplayer matches and some insane driving in Gymkhana mode.

Gameplay impressions overleaf...