Re-creating the action, adventure and memorable moments of the Pirates of the Caribbean mythology
Version played - PS3
Though Traveller's Tales latest LEGO action adventure offers a familiar blend of block smashing, stud collecting and platform-hopping it's a timeless formula. Indeed, it's testament to the developer's creativity and sense of humour that - despite the bombardment of movie-based LEGO action games over the past few years - the premise of smashing tiny LEGO blocks to pieces and collecting dozens of unlockables still doesn't feel at all stale in LEGO Pirates of the Caribbean.

As the LEGO action series has evolved so have the games, with enhanced graphics, slicker platforming sections and well-conceived puzzles always managing to capture the essence of the films they represent, while injecting the humour that we've come to expect from Traveller's Tales. The Pirates of the Caribbean films fit in perfectly with the LEGO Series, with Jack Sparrow's comedy swagger and unique personality shining through, alongside a hundred-and-one pirate themed jokes that provide more than a few chuckles.

LEGO Pirates of the Caribbean loosely follows all four of Walt Disney's Pirates of the Caribbean movies, from 'The Curse of the Black Pearl' through to this year's 'On Stranger's Tides.' Graphically, LEGO Pirates looks slick with dynamic lighting effects, motion blur and long draw distances being a few of the techniques that have arrived with the evolution of the series. Though none of the characters speak in the game, TT has done a marvellous job at injecting them - particularly the loveable rogue Jack Sparrow - with humour and personality, and during the cut-scenes in particular there are plenty of giggles to be had from the light-hearted pirate-themed humour and unique interpretations of some familiar scenes from the film.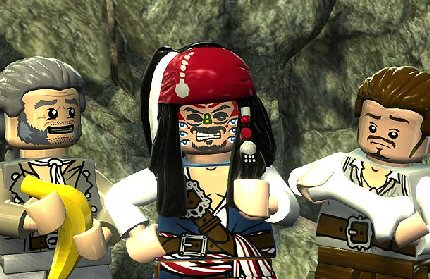 Indeed, The Pirates of the Caribbean license has been used extremely well. From fighting skeletons in the moonlight on the foreboding Black Pearl to exploring the appealing hub of Port Royal, LEGO Pirates offers an attractive mix of swashbuckling action, logical environmental-based puzzling and addictive stud collecting craziness that fills the screen with an explosion of colour. And despite lacking some of the magical spark that we enjoyed from the iconic setting of Hogwarts in LEGO Harry Potter: Years 1-4, fans of the films will no doubt be impressed with some of the familiar locations and characters from the film, as well as the numerous action sequences and stand-out moments from the movies.

Continued overleaf...