Versatile, durable and travel-friendly
SteelSeries, renowned for its high quality PC headsets and periperhals, marks its first venture into the world of Xbox 360 with the Spectrum 5XB; a headset designed specifically with console players in mind. Anyone who has ever played Xbox Live will know just how flimsy and awful the official Microsoft headset is to use. Okay, so you can pick one up now for around £5, but you really do get what you pay for. Over the years I've gone through half-a-dozen official headsets for a variety of reasons, from the snapping of the flimsy plastic that holds it all together, to having to endure horrible crackling noises every time I touch the base of the Xbox 360 controller. Due to the lack of consistent quality with the official wired headsets, I soon switched to the official wireless headset, which works well, but is still quite annoying when it runs out of battery at the most inconvenient of times. What I really want for Xbox 360 gaming is a sturdy, robust, well-designed headset that will last; and one that consistently performs well, allowing me to communicate well with my team-mates over Xbox Live. Step forward the SteelSeries Spectrum 5XB….

In the box
SteelSeries Spectrum AudioMixer
RCA Audio Splitter Cable
SteelSeries Spectrum 5xb headset
Quick Start Guide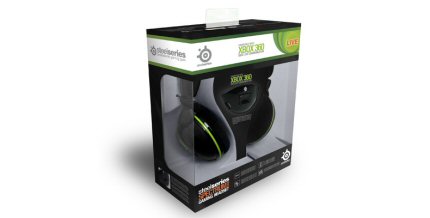 Tech Specs
Headphones Freq. response
- 16 – 28.000 Hz
Impedance
- 40 Ohm SPL1kHz, 1Vrms: 110 dB
Cable
- 1 + 2 = 3 m / 9.8 ft.
Jack
- 3.5 mm

Microphone Freq. response
- 75 – 16.000 Hz
Pick up pattern
- Uni-directional
Sensitivity
- -38 dB
Impedance
- 2K Ohm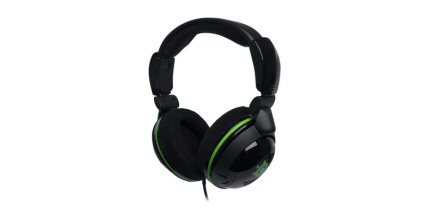 Click for larger image



The Spectrum 5XB is predominantly black in colour, with a sleek glossy finish that mimics that of the Xbox 360 Elite. Around the edges of the cup, there's a lime-coloured green rim that resembles the colour of the Xbox 360 logo. And, on the outer shell, the SteelSeries logo is also printed in that same colour green. It's a bold colour-scheme that may have limited appeal outside of the Xbox 360 community, but it does let you know - quite loudly and proudly - that this is a headset meant for Xbox 360 gamers. The cord that runs from the headset into the AudioMixer is made of durable, double-braided nylon, and a 12ft chord then runs from the mixer into the USB slot on your console. Put the headset on and it feels extremely comfortable and lightweight to wear. The XL-sized, cloth ear cushions fit comfortably around the ear,and the padded head-rest nestles snugly on your head. On the left cup sits a retractable micophone that you can pop in and out its hole depending on whether you're listening or talking. And the headset can be easily detached into three seperate pieces so that you can transport it easily. Overall, the Spectrum 5XB boasts a good quality build and looks and feels like it's been built to last.

Continued overleaf...