Brand new customizable player assists feature
With the 2011 MotoGP season recently underway, MotoGP 10/11 revs its engine and stands unchallenged as the official game of the World Championship. With Black Bean's rival Superbike series still awaiting a release date, Monumental Games' flagship racer also sits alone in its sub-genre free from the stress of competitor pressure. With a core audience already guaranteed with each entry in the series, the developer could have just sat on its hands for the last twelve months, delivered an incremental update and still have kept those fanatics relatively happy. However, in a bid to appeal to a wider audience, MotoGP 10/11 breaks the mold by offering some significant, game-enhancing updates.

Graphically, to the untrained eye at least, MotoGP 10/11 doesn't look a lot different to last year's iteration, with the highly detailed, intricately designed bike models – not to mention riders that look a lot like their real-life counterparts - being the highlight of an otherwise ordinary looking game. Be under no illusions: this isn't the best looking racer you'll ever play on PlayStation 3, nor does it sport the same slick presentation values of those racing games with much larger budgets behind them. However, a lot of effort has clearly been put into an area where it really matters; the racing. And, when compared to previous MotoGP games, it's this improvement on the track that ultimately makes the latest entry in the series the best and most versatile yet.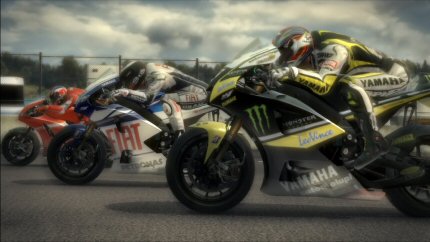 When Capcom took over the publishing rights to the MotoGP franchise from THQ in 2008, it set out to change the handling model and evolve the MotoGP experience. As a result, the arcade style of previous games gave way to a more punishing simulation of the sport that was aimed toward hardcore fans of the genre. In MotoGP 10/11, however, the decision has wisely been made to broaden the game's appeal and draw in fans of other racing games. By offering a choice between a simulation and arcade mode - and catering for a broad range of skills - the MotoGP franchise is now more accessible than it's ever been.

Continued overleaf...