The official game of the WRC revs its engine
Version played - PS3

Over the past few years, Codemasters and the DiRT series has elevated rally driving games to a new high by capturing the thrills, spills and intensity of the sport in such an exciting way. However, many rally fans will tell you that the DiRT games are clearly designed for mass appeal, offering an accessible, arcade-style of racing rather than an accurate simulation of the sport. Step forward WRC FIA World Rally Championship.

Italian-based developer Milestone, the team behind SBK 08 and Moto GP 08, has grabbed the official license to the FIA World Rally Championship and with it aims to give Codemasters and DiRT a run for their money, while providing a different kind of rally experience aimed toward "real fans" of the sport. There's still a long way to go for Milestone, but its new rally game does show great promise for the franchise going forward. Though WRC FIA World Rally Championship lacks the high production values that you'll see in DiRT, it does offer a challenging, no thrills, no spills, less Americanised, simulation of rally driving...and competition can only be a good thing, right?

As the official game of the Championship, you get access to all the drivers, teams, sponsors and even the support classes, including J-WRC, S-WRC and P-WRC. You can race around every location from the tournament, 78 courses in total that take you across 40 different types of terrain. It's an impressive roster that bodes well for future iterations of the series and should appease fans of the sport. The fact that Milestone has managed to create so many different types of terrain that feel different under your wheels is testament to the fact it's serious about competing in this genre.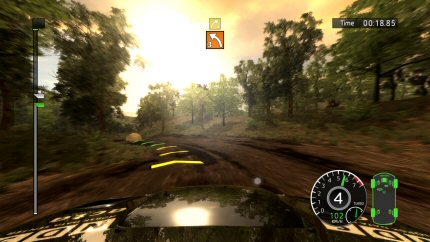 Continued Overleaf...