Destroy enemies using the Homing Attack.
There are four main zones to traverse that fans of Sonic 1 and Sonic 2 may recognise. Splash Hill, Casino Street, Lost Labyrinth, and Mad Gear are all re-hashed locations from those games, though they've been polished up and new features have been added such as more speed ramps. They don't look as impressive in HD as they could have done, but they capture that familiarly colourful Sega look with blue skies and white fluffy clouds drifting overhead. The level design can't be faulted as you loop-the-loop, tumble down tunnels, jump over crumbling cliffs before you get a chance to blink and hurtle off springboards. It's familiar, and it's fun.

The spin dash makes a return and you can pick up power-up such as speedy shoes, but the major difference from the original Sonic is that Sega has kept the homing attack, which first appeared in Sonic Adventure. Here, the Homing Attack adds a new level of strategy to the platforming sections but is most impressive when you chain together attacks, target enemies swiftly and use the added elevation to reach new areas. The simplicity of the control scheme means that you really can just sit back and enjoy the arcade-style thrills and intense speed of Sonic without having to suffer with some of the frustrating moments that have plagued more recent Sonic games.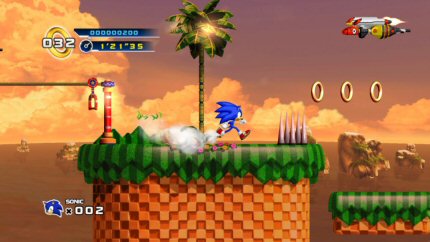 So, Sonic The Hedgehog 4: Episode 1 does well to capture the flavour of the 16-bit era, with sublime momentum-based physics, classic locations and a smooth control scheme. On occasions, when obstacles are thrown at you that you just can't predict, death is inevitable and it can get a little frustrating, but it's great to play as Sonic again in his purest form. Any fans of the blue hedgehog should take note: the familiar tinkle that you hear when roll across a line of gold rings hasn't felt this good for a long time.