Has it got Star Power?
So, it looks and feels the part, how does it play? Well, as a guitar hero guitar, it's compatible with ALL the guitar hero games as well as the rock band games. (although there is a disclaimer "ACTIVISION AUTHORIZES THE USE OF THIS GUITAR HERO CONTROLLER ONLY WITH A GUITAR HERO GAME PRODUCT OR OTHER ACTIVISION LICENSED PRODUCT").

We had some initial problems with it not registering with the console (the direction control would work, but the guitar itself wouldn't) however we quickly discovered setting the controller number to be between 1 and 4 fixed the issue. It pairs up with a dedicated USB receiver and range is a claimed 10m. Now I don't know how you play your PS3 but I think if I was 10m from mine I'd be struggling to see the screen. However it's safe to say that throughout its extensive testing cycle, it never dropped out once.

The neck buttons are fractionally smaller than those on a guitar hero guitar and therefore slightly closer together. That's a big plus in this reviewers books, as it makes that jump to orange 5th just that slight bit easier! They respond nicely too – again, not to clicky and have shown no sign of sticking, leading to dropped notes. The slider pads work perfectly too, and the whammy bar is perfectly placed with just the right amount of tension. Star power can be activated in two ways – the traditional tilt method, or via a switch built into the guitars fake bridge. Both worked flawlessly throughout testing. All pretty much standard guitar hero stuff really.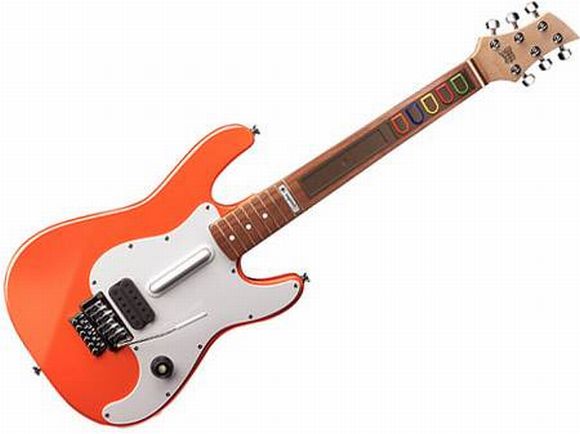 The Xbox 360 Version
Continued overleaf...