Gameplay Impressions
Review
It think it's fair to say that Street Fighter has lost some of its impact over the years, but what still remains is one of the most exciting fighters out there with a roster of fighters brimming with personality and visually arresting moves. The solid game mechanics that I associate with the series have never been lost, just fine-tuned to help create one of the most finely balanced and entertaining brawlers ever in Street Fighter IV.

What's so great about Super Street Fighter IV is that it takes all of the great things from past games and brings them together for one glorious showcase of everything that we love about the series. All the best fighters are here and unlocked from the outset offering a massive variety of play styles, and in the single player tournament there's even the return of the barrel bonus stages from the Street Fighter II series. In addition though it goes one step further than before by adding robust online modes that elevate it above and beyond anything the series has achieved before.

As far as gameplay goes, it's business as usual -- choose your character and fight through the roster in best-out-of-three, kick the living daylights out of each other, battles. If you played Street Fighter IV you'll know all about the gorgeous backdrops and the deep and satisfying battle system so we're not about to cover old ground here – just check out our Street Fighter IV review to see why we rated it so highly.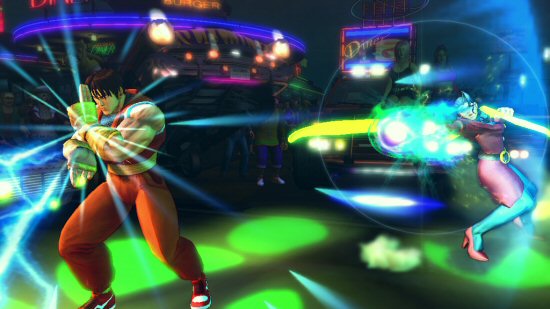 In Super Street Fighter IV the new characters give you a whole new challenge and a new play style to master, but it's the re-balancing of the old characters and the inclusion of some old but familiar faces that take the limelight. The new guys, Juri and Hakan, are welcome and fun additions, but with such a strong cast of characters already available that we know and love their impact is somewhat dampened. Hakan is the most enjoyable of the two new additions to fight with as he has to pour oil over himself which makes him faster but leaves him vulnerable for a short period of time. They both give you something different to think about and add a new playstyle to master.