Skateboarding in your living room, without the risk of an accident
Version reviewed - Xbox 360

What is Tony Hawk: Ride?
The popular skateboarding action game featuring the legendary Tony Hawk has now reached its 10th anniversary year and twelfth iteration, so what better way to celebrate its success and push the series forward than by unleashing a brand new peripheral designed to bring skateboarding to life right bang in the centre of your living room?

For the £100 asking price for Tony Hawk: Ride comes bundled a 4xAA battery powered, wireless skateboard that uses accelerometers and sensors to try and create a more realistic experience and immerse you in its world of half-pipes and rail grinds. Shaped like a real skateboard, and fitted with four sensors, you can use the plastic peripheral to perform numerous maneovres from turns and flips to complex tricks.

The inclusion of the skateboard comes at the expense of the standard Xbox 360 contoller, which can only be used to navigate menus, but as far as gameplay goes, Ride pretty much sticks to the standard Tony Hawk formula. Locations, designed to give you the freedom to experiment with tons of street furniture allowing you to rack up style points, include the likes of California, New York Tokyo and Frankfurt and during the journey you'll encounter four game types, including Trick, Challenge, Free Skate and Speed.

There's plenty of items to unlock along the way to customise your skater and the addition of 'Hot Seat' gameplay allows you to compete at home with one board against friends and family. Eight-player local and four-player online battles complete the multiplayer mode set and there are online leaderboards where you can check to see how you're shaping up against the rest of the world.

If you're a fan of Hawk you'll know exactly what to expect from Ride, so there's only one thing that can really make it or break it: the new wireless skateboard.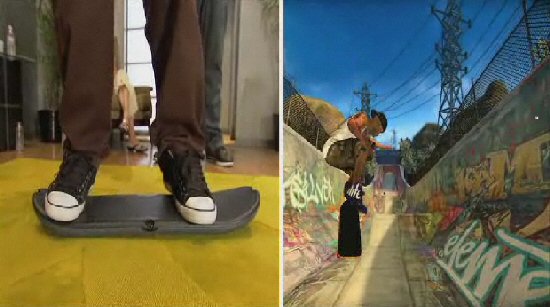 Gameplay impressions overleaf...