Gameplay Impressions
Gameplay Impressions
When we un-boxed the package and took out the turntable we were quite underwhelmed. If we had paid for our copy of DJ Hero, it would have knocked us back £99 RRP (cheaper from some retailers,) we'd have certainly been unimpressed at the un-stylish looking piece of kit, which is essentially a piece of plastic with a functional, but plain looking platter, and a mixing deck that has a lot of empty space on it that could have been filled with something, anything, to make it look more appealing. Still, we hadn't even booted the game yet. Let's give it a chance, eh?

Having played more than our fair share of Guitar Hero, we were confident that our rhythmic skills and musical know-how would allow us to crank the game up to hard difficulty and skip the tutorials - the turntable set-up does look that basic. But after spending many hours with DJ Hero and its 90+ tunes, we can categorically say that the turntable's simple-looking aesthetic is an illusion - this is a very challenging game on the hard and expert levels and will test the most co-ordinated of gamers on many of the medium tunes. The phrase "never judge a book by its cover" springs to mind here.

This particular edition of DJ Hero (buy the pimped up Renegade Edition if you're looking for a glamourous looking turntable) may not look like as though it harbours the power to put you in a trance with its hypnotic beats , but it actually has everything you need to take you on an entertaining musical journey and it functions extremely smoothly. Having the co-ordination to use your left hand to twiddle the effects knob, then switch to the crossfader to blend in and out of tracks, while using your right hand to press the coloured buttons and then spin the platter around in a full circle or scratch it back and forward requires a lot of concentration. The euphoria button is a neat addition, which like the whammy bar on Guitar Hero allows you to multiply your score if you've been DJ'ing particularly well. The option to customize your effects by twiddling the effects knob and choosing from some custom sounds prior to having to play them, gives you some degree of customisation to each track. The resulting noise (music) that you make when you get it right is superb, you really do feel the groove. Once you get going it's addictive stuff. We even resorted to plugging a pair of our headphones into the TV to make the illusion of being a DJ even more real. It worked; all we needed was some strobe lighting and some scantily clad women shaking their booties and we'd have been right there. DJ Hero does, when you get it right, make you feel like a DJ Hero.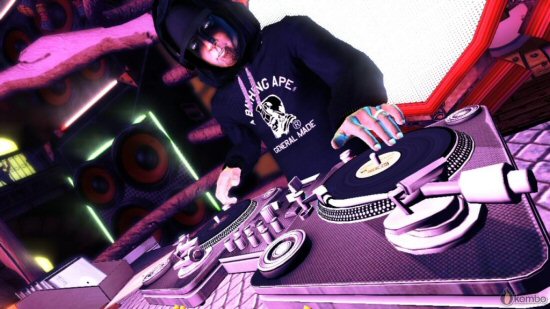 Aside from the brilliant implementation of the controls, it helps immensely in the enjoyment of DJ Hero that there's a great track list. Though some of the mixes, such as Marvin Gaye's "I Heard It Through the Grapevine" and David Bowie's "Let's Dance" seemed an odd choice to our untrained ear, and actually sounded fairly awful with scratches and airhorns blaring cropping up unnecessarily during the mix, there's a lot of stuff here to get your feet tapping and head nodding. Queen's "Another One Bites the Dust" mixed with Daft Punk's "Da Funk" , or Bell Biv DeVoe's "Poison" mixed with Beastie Boys's "Intergalactic" are just two of the many highlights, but there's many surprises here and numerous tracks that you wouldn't think would work together but turn out to be brilliant mixes.

Presentation and feature-wise, DJ Hero decent is fairly decent, if a little predictable, with bright flashing DJ backgrounds represented by various venues packed with people dancing, but the cartoon-style caricatures and the sheer amount of customisation feels out of synch with the game and probably the target audience, who we assume won't care less about what their DJ wears or what hairstyle he dons; no-one can see him anyway apart from you. Though the "wow" factor that we experienced the first time we ever played Guitar Hero isn't quite there, DJ Hero does feel like a unique and refreshing experience and, to anyone who has ever grooved on a dancefloor, it should hit the spot in terms of toe-tapping entertainment.

Nevertheless, there's still room for improvement. First up, it's extremely difficult/challenging, we found it frustratingly so, on the harder levels and as you progress through the game. So much so, that some of our mixing sounded truly awful, just a barrage of noise and out of synch crossfading. That could be our low skill level, but we've played a fair few rhythm games in our time and can also play musical instruments, so we feel we're more than adept at holding our own in such games. Newbies to the genre may have a tough time and could get put off by the stiff challenge. There's always easy level, but it's actually so easy though that it's barely worth bothering with. The game could have benefited from a bit more balance in challenge between the various difficulty levels.

It would also have been nice to be able to pick and choose single tracks and mix them together to create our own tunes, just like a bedroom DJ would do. The variety basically comes in the form of tracks rather than game modes. Online multiplayer feels a little weak as well. You can compete against people over live but you feel somewhat detached as you can't see their DJ on screen at the same time - instead your scores are just compared at the end.

Nevertheless, if this is what Activision and FreeStyle Games has managed to do with the first game in the DJ Hero series, we can't wait to see how it evolves. Weighing up the cost against entertainment value is a tough one, but DJ Hero just about scrapes its innovative turntable peripheral and groovy soundtrack. Whether real bedroom DJ's will appreciate it is a whole other question that we can't answer here. As a rhythm action game though, it's right up there with the very best.

Final Score - 8.5/10

The complete set list and picture of the turntable can be found overleaf...