Old-skool gameplay with newly hand-drawn sprites
Version played: Xbox 360

What is King of Fighters XII?
In the year of its 15th anniversary, the King of Fighters series makes its debut on Xbox 360 and PS3. From Japan-based, beat-em up veterans, SNK Playmore, King of Fighters XII is an old-skool, arcade-style brawler that has a long history as a Neo-Geo MVS arcade game, before it made the transition to console in 2004.

Devoid of a storyline, King of Fighters XII focuses solely on tournament fighting as you eliminate opponents on the way to becoming champion. Featuring a roster of characters from past iterations of the series, all graphically enhanced with hand-drawn animation, King of Fighters XII features a colourful cast of fighters that possess a range of over-the-top moves.

Key Features
New hand-drawn characters and animation - Much has been made about the graphical overhaul for King of Fighters (KoF) XII. The entire roster has been given a face-lift and the 2D backgrounds are more colourful and detailed than ever.

3-on-3 tournaments – There's a return to the familar King of Fighters formula with characters split into teams of three. You choose a team, which order you want to fight in and then do battle to eliminate one of other teams.

22 playable characters - Though the roster has been shrunk considerably compared to previous KoF games there are still 22 playable characters, all of whom sport a unique design and array of moves. There's the return of some old veterans, including Ash Crimson, Joe Higashi and Kim Kaphwan.

Game modes - There are three game modes to choose from: arcade, versus and online. The online component allows you to customise tournaments and fight players from around the world. Co-operative play is a key feature.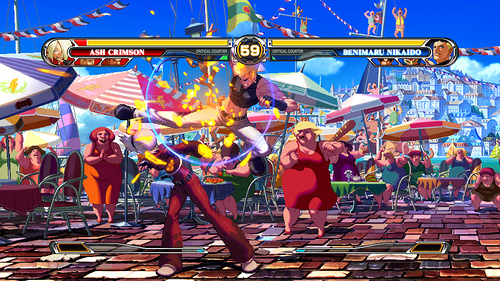 Gameplay Impressions overleaf...