Back behind the wheel for the first game since McRae's tragic death.
Version played: PS3

What is Dirt 2?
Dirt 2 is the first off-road racing game in the McRae series since the Scottish rally driver died in 2007, and the seventh title in the long running franchise. In tour mode, you compete in a variety of event types, including rally cross and point-to-point races, earning experience points along the way to gain you access to the higher-tiered events. Cash rewards are also up for grabs, which can be used to purchase new vehicles, liveries and upgrades.

Dirt 2 offers a wide variety of vehicles classes and technically challenging courses, taking you on grueling mountain climbs around twisting hairpin bends to technically-tough,slippery and rain-sodden tarmacked tracks.

Key Features
Tour Mode - The is the bread and butter of Dirt 2. Make your way from Rookie to World Champion partaking in a structured career progression that boasts numerous challenges designed to test your driving skills to the max. In tour mode, you get to race all event types, courses and vehicle classes as you earn EXP and cash. There's also the option to earn extra XP by completing missions, such as driving on two wheels or breaking objects around the tracks.

Car Classes and Event Types - Five event types are playable in both tour mode and online: rally, rally cross, trailblazer, land rush and raid. Seven vehicles classes are available ranging from officially licensed rally cars, such as the Group N Subaru, to an assortment of buggies and trucks. Each class has a set of unique characteristics and offers a different racing experience.

Flashback Mode - The flashback mode, which made an appearance in GRID, allows you to access a short replay of the seconds just before a crash. This allows you to change the course of history and tackle that part of the track again, where you'll hopefully stay on track this time around.

Online Play - Up to 8 players can battle it out in the customisable online arena using any of the classes, courses, or event types from the single player game.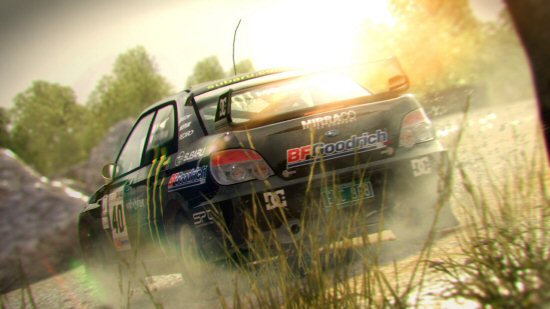 Click for larger image
Gameplay impressions overleaf...