"Cricket is a batsman's game" - Richie Benaud
What's it about?
Ashes Cricket 2009 is the official game of the inaugural summer competitive match between England and Australia, a test series that is billed as one of the most exciting sporting battles in the world of cricket.

As the official game of the Ashes, accurate player likenesses and carefully selected player stats imitate those of the English and Australian teams, while outside of The Ashes game mode you can choose to play as one of the ten other cricketing nations in a variety of tournaments based around the popular sport.

Commentary and tutorials are provided by, among others, Ian 'Beefy' Botham and Shane Warne, while stadiums such as the Oval and Lords in the U.K. and MCG and SCG in Australia are modelled directly on their real life counterparts and deliver an authentic back-drop to the action.

Aside from the main Ashes game mode, which sees England play Australia over five tests, you can partake in One Day Internationals, Test Matches and 20 Over matches, or you can customise matches to suit your needs. Those who are too impatient to bat and field through 50 overs or more, for example, can choose to play as few as 5 overs in a match, which encourages you and the other team to play a more attacking style of cricket - ideal for quick pick-up-and-play sessions.

From the main menu you can also access a comprehensive tutorial mode, which also offers a variety of challenges as well as in-depth analysis of all batting, bowling and fielding techniques. You can also enter The Pavillion where you can gain access to your trophy cabinet, unlocked kit items and stadiums. There's also a host of customisation options, including squad and player editors and an online mode where you can set up your own matches and take on friends, or like-minded gamers, from around the world.

There's a variety of techniques to master while batting, bowling and fielding and a confidence building system that can swing either way and therefore affect the way you play. The last cricketing game from Codemasters was Brian Lara Cricket 2007. Ashes Cricket 2009 essentially builds on that format, bringing the visuals up to date with today's modern standards Tweaks to the gameplay, including technical improvements, plus the addition of a few fresh features, including QTE events, have been brought in to complement a return of some of the popular features from Brian Lara Cricket, such as the Official Hawk-Eye visualisations.

In the wake of the recent Headingley humiliation at the hands of Australia, Ashes Cricket 2009 is the only console cricket game out this year that gives you the chance to show those England boys exactly how to beat the Aussies.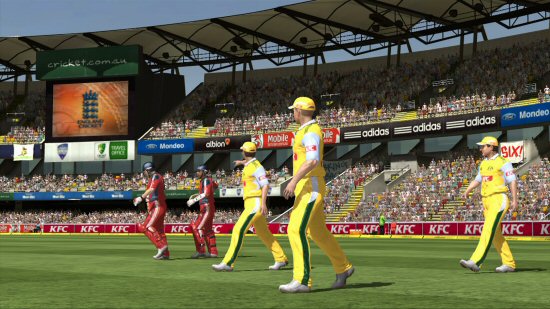 Gameplay Impressions overleaf...

Note: At the time of writing we haven't played the online game modes.