Sega serves up another dose of its arcade-style tennis game
What's it about?
Developed by Sumo Digital and published by Sega, Virtua Tennis 2009 is an arcade-paced tennis game with a reputation to uphold having started off its glittering console career with the critically-acclaimed Dreamcast version in 2000.

Four versions later and Virtua Tennis 2009 (VT 2009) builds upon the foundations laid down by its predecessors and features all of the top players from the sport, including the likes of Rafael Nadal and Roger Federer, alongside some new entrants to the roster this year, most notably Andy Murray and ladies French Open champion Ana Ivanovic.

In addition to an exhibition mode, where you can jump straight into the action, VT 2009 includes a comprehensive World Tour mode, where you can enter singles and doubles tournaments and earn cash to spend in the tennis store, while making your way up the rankings to world number one. Though Virtua Tennis is widely known for its arcade-style gameplay rather than being a deep simulation of the sport, it does feature some extensive customization options and training games that allow you to focus on improving various aspects of your game on the court, such as ground-strokes or serves.

Alongside the traditional gameplay, there are plenty of wacky mini-games to play, including 'Pot Shot,' in which you have to try to pot pool balls by serving the cue ball and 'Shopping Dash,' where you have to grab all of the shopping bags on the court while avoiding giant tennis balls. There are six new surreal mini-games this year, adding to the six games that were already available in Virtua Tennis 3 in 2007.

This year VT 2009 boasts a fully integrated online component where players can access matches directly from within the hub of the World Tour mode and there's also online leader-boards, ranked and unranked matches and an SPT Online Tour where players can earn meals and tour points by competing in a week long series of matches.

VT 2009 features a basic three button control system, which when used in conjunction with the thumbstick for aiming, relies mainly on your timing skills and you're ability to pick and choose wisely between the three shot types: top spin, slice and lob.

Over the years, Virtua Tennis has gained a strong reputation for its fast, arcade-paced, accessible and addictive gameplay. But how does this latest version fair?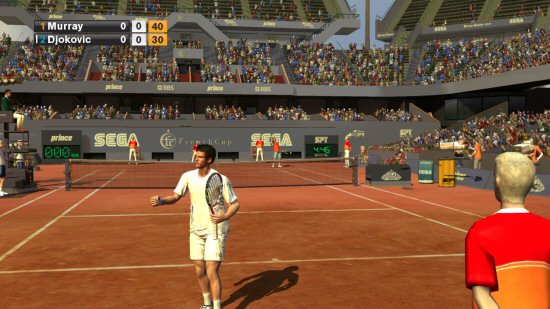 Continued overleaf...