Delivering the intensity and attitude of a UFC live event
What's it about?
From the creators of the WWE series, UFC 2009 Undisputed is a mixed martial arts brawler based on the increasingly popular Ultimate Fighting Championship. Over the last ten years the sport has grown up considerably. The no holds barred and brutal one-on-one blood-splattered fights of the past have been toned down somewhat with the introduction of rules to give its athletes better protection and to ensure fairer competition. With UFC's popularity now mainstream, UFC 2009 showcases the sport in all its glory.

Boasting a carer mode similar to that in the WWE series, where you take an unknown fighter through the rankings up to World Champion, you can organise training schedules, your own fights and spar with your partner to earn points to spend on various attributes to improve your fighter. A Create-A-Fighter mode allows you to customize your fighter, choosing his look and fighting style and you can bring this warrior into the online arena or into the career mode.

An Exhibition mode boasting 80 known fighters from the sport allows you to jump straight into the action, whereas a Classic Mode givesyou the chance to relive some of the famous fights from the world of UFC. Finally, the practice arena gives you the opportunity to get to grips with the vast array of moves. UFC isn't a sport for the feint-hearted, it can be very violent at times, but the technical skill required to get the upper hand over your opponent is indisputable.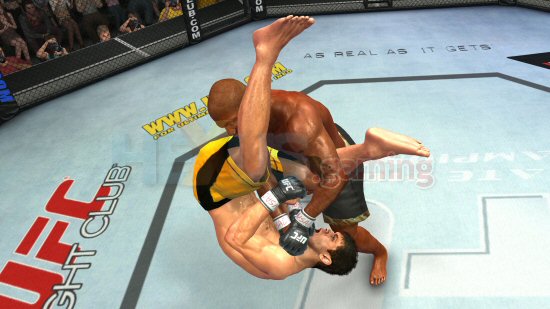 Click for larger image
Gameplay impressions overleaf...