Two campaigns, five multiplayers and dozens of aircraft and vessels under your command
What's is all about?
Battlestations: Pacific is a vehicle-based combat/strategy game and the second title in the Battlestations series. Set during World War II, Battlestations Pacific follows on from the Battlestations Midway campaign by moving through the time-line across the Pacific from The Battle of Midway to Okinawa as U.S Forces attempt to secure peace in the region. Unlike the first game however, players now have the chance to reverse the course of history by also playing from the Japanese perspective, which has opened up the opportunity to engage in the notorious fight at Pearl Harbour, among other infamous battles.

Battlestations Pacific blends action with strategy, allowing you to control ships, airplanes and submarines from the era remotely, and in real-time, via a 2D map, or by jumping straight into their cockpit or control room. Each individual unit is under your command as you partake in missions inspired by real-life events, in addition to a number of 'What if?' scenarios if you decide to play from the Japanese perspective.

Among the missions of offer you can expect to be defending bases from heavy enemy onslaught, heading off on daring dawn raids, or assisting ground troops by taking out air-to-ground and artillery emplacement. Many of the objectives require you to tactically utilise a mix of air and sea vessels, while indulging in regular bouts of multi-tasking as you deploy units from your base, take part in dog fights above the shimmering Pacific ocean and learn to deal with numerous other scenarios, such as dealing any emergencies that may break out on board your sea-dwelling craft.

New units have been employed for this second iteration, including the introduction of the infamous Ohka kamikaze planes. While a number of new features, that include the ability to control strategic points on the huge open-world maps by launching parachute squadrons and capturing atolls to set up gun batteries on land, are among the new additions.

In addition the two campaign modes, Battlestations Pacific offers a strong multiplayer component with five different modes including free-for-all 'Duel' and 'Siege,' which tasks one team with defending an island stronghold while the other team must capture it in a specified time limit.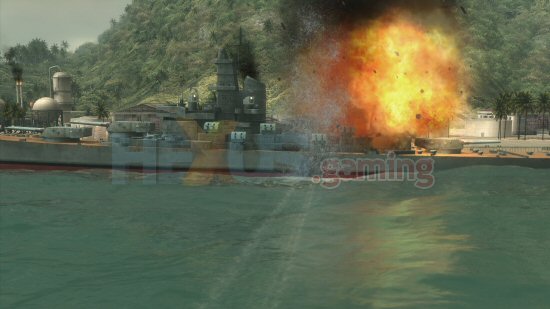 Click for larger image
Continued overleaf...