Kicking off a long, but heart-felt review
Life as a games reviewer has its bad days, good days and great days. In between reviewing all of those brilliant games, there are also some real stinkers, that are as painful to write about as they are to play. In these, often too frequent cases, the job of a video games reviewer isn't all that it's cracked up to be.

Occasionally though, there's a game that renews my spirit and that cold Monday morning, when I spent 6 torturous hours playing through the entire Kane & Lynch campaign, is a distant memory that gets replaced with a warm fuzzy feeling, akin to the time when I reached the top of a mountain in Oblivion and marvelled at the sunset across the lakes or similar to the moment when I strapped on the X-plorer guitar and first played Guitar Hero. These moments are part of the reason why I continue to review video games for a living.

Although it would be ridiculous for me to compare pinnacle moments like these to playing UEFA EURO 08, I can tell you that today is a one of the great days to be a reviewer.

I've had a infatuation with football and a love for football games for as long as I can remember, but no football game has ignited that passion for the 'beautiful game' as much as EA's latest offering.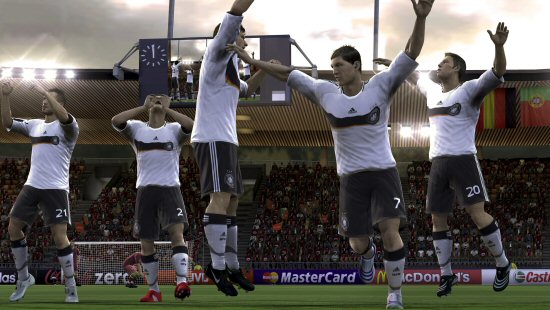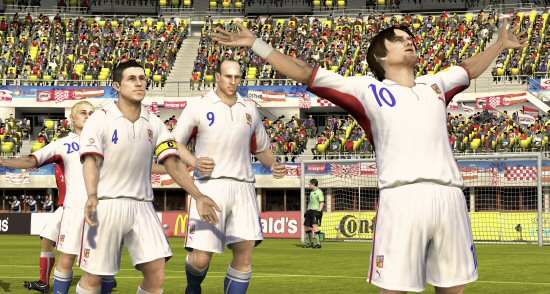 I do have a confession to make though, I am a fan of EA's other football franchise, FIFA. Unlike the fanatical sets of FIFA and Pro Evo players though, I have no loyalty to the brand. I was a Pro Evo player right up until last year, but I switched to FIFA because EA upped its game considerably, with some great new features, a stable online component and the best game engine that they'd ever produced. It was clear that the developer had finally got its finger out and was serious about creating the perfect all-round soccer title in terms of look, presentation and game-play. On the flip side, Pro Evo, for me, seemed stuck in the same place that it was in 2006 with the same game-play, features and presentation.

UEFA EURO 08 just gets so many things right this year and expands on all the good things from FIFA 08. The new game modes, such as 'Battle of the Nations' offer true innovation in the genre and should help no-end in fuelling and stirring national rivalries. The new features, such as the interactive celebrations and cut-scenes, have added a new dimension to match-days, making scoring as satisfying as it has ever been in an EA football game, and the enhancements to the match-day engine, which include the use of negative tactics by opponents when they are playing away from home, makes for an accomplished football experience.

Forget the fact that England didn't qualify for Europe. As soon as you start your first tournament, hear the National Anthem blaring out of your speakers and see the Germans or French lining-up in front of you, you'll only have one thing on your mind: beating the living daylights out of them and bringing home the cup. In my humble opinion, despite there still being room for improvement, EURO 2008 is the best soccer game to have ever graced the Xbox 360.

Read on