Washington DC is in a state of panic.
What's it about?
The Conduit is a first person action shooter that aims to prove that Wii isn't just for casual gamers but can also cater for the hardcore audience and their love of killing things. Developer, High Voltage Software, has certainly worked hard to address that issue and those Wii owners bored of the constant barrage of hastily released family-focused party-games on Nintendo's console will get plenty of opportunity to unleash their inner demons and slaughter a wide range of beastly creatures in this conspiracy-driven action shooter.

The single player campaign revolves around Agent Ford, a member of the secret service who is sent to investigate and eliminate an insect-like alien race known as "The Drudge." With this vile alien horde taking over Washington D.C, Ford equips himself with a range of conventional and futuristic weapons and uses his orb-shaped device, known as the All-Seeing Eye (ASE,) for basic puzzle-solving .

The Conduit is exclusive to Wii, therefore the game engine and the controls have been designed from scratch to take advantage of the hardware and the motion-sensing controllers. High Voltage Software goes further than most developers by offering an extensive list of customisation options so that we can tweak the control scheme to our own requirements.

In addition to the single player campaign, The Conduit also boasts a comprehensive 12-player online multiplayer component that features 13 game modes, including familiar multiplayer modes, such as Team-Deathmatch and Team Objective, alongside some variations of other popular modes, including ASE Football, in which the player who captures and holds the All-Seeing Eye device the longest wins.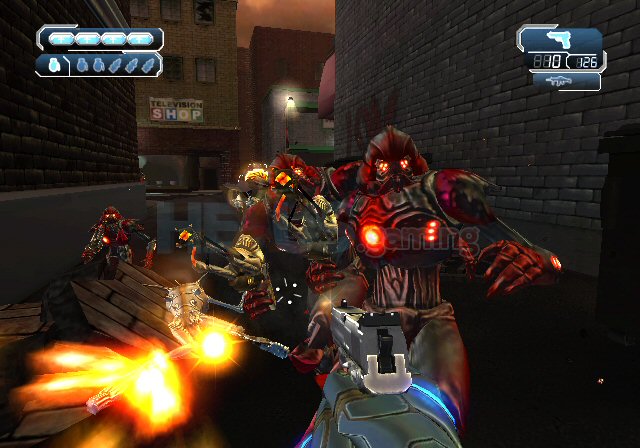 Quite simply,The Conduit involves killing dozens of re-spawning aliens.

Gameplay impressions overleaf...