Pure pressure, pure passion, pure darts!
What's it about?
PDC World Championship Darts 2009 is the official game of the PDC and features 18 of the top pros from the circuit, including Phil Taylor, Raymond Van Barnevald and Dennis Priestly. This is the second game in the series created specifically for Wii, so developer Rebellion Studios has been able to learn lessons from last year's iteration and follow user feedback. In this latest incarnation, it has gone back to the drawing board to refine the throwing mechanic.

PDC 2009 once again takes advantage of the Wii Remote's motion-sensing functionality with players having to hold the oblong controller like a dart and then thrust it forward (without releasing it of course, we wouldn't want to see anyone injured.) The control scheme utilizes a throw metre, which appears around the aiming reticule. When performing a throw gesture you hold down the 'A' button and release it when the throw meter hits the sweet spot.

Each Pro has a different throw style and a list of attributes ranging from throwing accuracy to their ability to cope with pressure, and there are other factors that can affect your game, including the weight of your darts.Boasting seven tournaments, ranging from the UK Open to the World Championship, PDC 2009 features typical 501 gameplay, which is preceded by player walk-ins and then commentated on by TV's Sid Waddell and Russ Bray.

Other game modes include custom leagues and tournaments for up to 8 players; party games, including 'Killer' and 'Around the Clock;' and finally, a practice mode to help master those check outs.

On paper, PDC 2009 appears to offer the complete package for fans of the sport.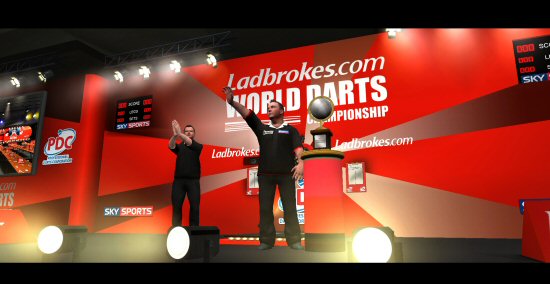 Continued Overleaf...