Family adventure with George and pals
Based on the 2007 animation series from Cartoon Network, George of The Jungle is the family-orientated action adventure platform game from Ignition Entertainment.

George of the Jungle for Wii begins with a humorous animated cut-scene that sets the scene perfectly for George's adventure and introduces many of the characters from the Nickelodeon series, including Ursula, Dr. Scott, the Witch Doctor and George's best friend, Ape.

To cut a short story shorter, this jungle tale involves searching for the pages of a research paper that have been inadvertently carried away by the mischievous Tookie Tookie bird. The pages are scattered somewhere in the jungle and it's your job to find them so that Dr. Scott and the Witch Doctor can continue their studies into a cure that could potentially save millions of sick people.

Without further ado you're thrust into the depths of the jungle to Monkey Village where you begin your adventure across the four colourful and eye-catching locations. The adventure invariably involves swinging from vine to vine, jumping across ledges, avoiding treacherous obstacles, disposing of aggressive monkey tribes and other baddies, collecting a variety of goodies, and finally making your way to face the tough end-of-level boss.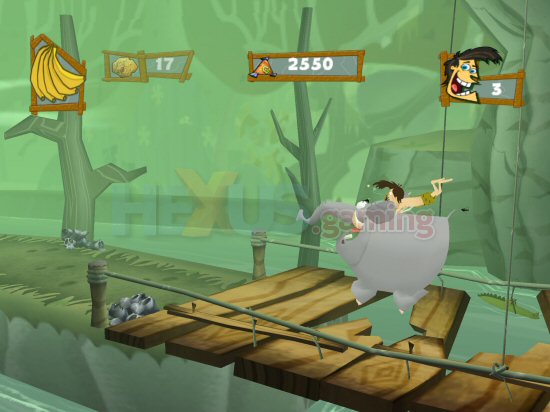 Click for larger image



It all sounds very familiar doesn't it? Well, so it should. George of the Jungle follows the same tried and trusted formulae of a 101 other sub-standard platform games before it and it becomes apparent the more you play it that the developers didn't once look outside of the conventional 'platforming' box, but were instead content with re-using ideas that date back to before I was born and were satisfied with simply throwing these ideas into a jungle environment in the hope that kids won't concern themselves with such trivial matters.

And, why not, kids don't really care for innovation, do they? They just want something simple and accessible to play, cute characters that they can connect with and a theme that appeals to them.

If that's what kids want, then George of The Jungle hits the nail right on the head. However, as far as game-play goes, even the youngest and most avid fans of the hero will be disappointed with some of the shoddy game mechanics and the fluctuating and inconsistent difficulty curve.

Read on