Bringing you the highs and lows of football management in the palm of your hands.
What is Football Manager Handheld 2010?
Football Manager Handheld 2010 is Sport's Interactive's down-sized port of its PC counterpart, giving fans of the beautiful game the opportunity to experience the highs and lows of football management in the palm of their sweaty hands.

Via a myriad of menus and with the power of a stat-crunching database that analyzes every decision you make in a hundred-and-one different ways, Football Manager Handheld 2010 allows you to make all the key decisions in the running of your club, from scouring the transfer market for a superstar striker to organizing training ground routines, from match-day selection and tactical-tweaking to dealing with player contracts.

Teams and players have been updated to reflect the current football season and some tweaks have been made and a few features added in order to improve on last year's iteration. Nine playable leagues/countries, boasting a total of 27 playable divisions, are now available and you can run up to four leagues at the same time.

Improvements to the scouting and team report system have been made, plus a new player comparison screen has been added to help you work out whether its worth buying or selling a particular player. The inclusion of a few new skins means that you can alter the appearance of the user interface, but the biggest new addition this year is the new 2D match display, affording you with the luxury of watching the game unfold by switching in between two camera angles, rather than watching the tradition text output.

To all intents and purposes, Football Manager Handheld 2010 is an upgrade of 2009's critically-acclaimed title, rather than a huge overhaul of the series.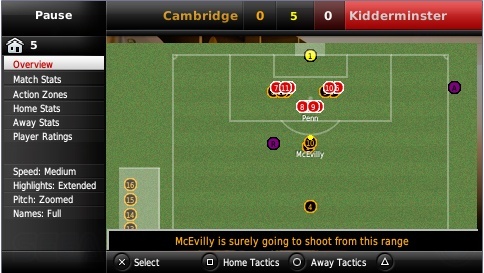 Gameplay impressions overleaf...