Macros on the fly...
The first thing you may notice is the Razer exclusive font used on the keys. The styling doesn't affect the functionality of the keyboard, but it's a strange font to use that looks like alien etchings in comparison to the standard font on other keyboards. Nonetheless, it gives the Ultimate a unique look that some will love. Personally, we prefer a simple, clean font. Every key on the Ultimate is individually back-lit in MX Blue and by pressing the function key (FN) and F12 you can switch between three brightness settings,turn it off completely, or set the colour to fade in and out. The MX Blue colour is nice and subtle so it doesn't strain your eyes and though we've used it mainly on the lowest brightness setting, the strongest setting really does provide an impressive glow that lights up your gaming space. The only minor complaint we have is that it doesn't light up all the symbols below the number keys too. This isn't a problem when gaming, but we work a lot in low-lighting in the evening, so we would have found it handy.

One of our favourite features of the keyboard is the mechanical key architecture that has been making something of a comeback in recent years. Whether you're interested in purchasing the Ultimate or not is really going to be down to this particular feature. If you enjoy the feel and noise of clicking away on a mechanical keyboard then the Ultimate will immediately bring a smile to your face. If you haven't tried one before, however, get yourself down to your local stockist and test the Ultimate out through the packaging where you can click away on the exposed arrow keys before making your decision. Personally we love it. After spending some quality time in its company we can't see us ever turning back to a rubber-domed keyboard again. With the Ultimate, your keystrokes register before you've fully depressed a key, enabling you to move faster around the keyboard while providing a satisfying tactile feedback that makes a delightful clicking sound that brings back memories of programming stick men to jump on the ZX Spectrum +.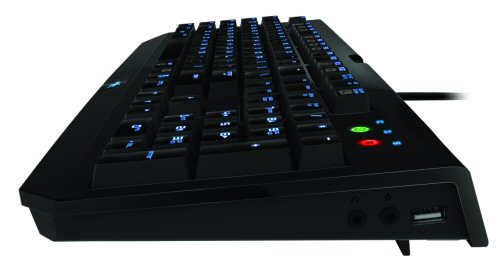 Click for larger image



As you press a key, it does produce quite a loud sound which may annoy anyone around you who is trying to concentrate on something else, but the groans of people in our offices only made us want to tap more loudly and furiously. What we've found most impressive about the mechanical key structure is how our performance seems to have improved. If you look at the keyboard from the side, you can see how each row has been sculpted at a different angle - instead of the flat layout that you'll see on most keyboards. This design, in conjunction with an actuation force of 50g and a reduced actuation distance of 2 mm, means that you can travel very quickly across the keyboard. While gaming this is great, but even while typing it feels like we've been able to seriously improve our speed.

Continued overleaf...