James Blunt songs aren't allowed
Jam Sessions isn't a game as such. It's a guitar simulation; a portable digital musical instrument and a piece of software capable of allowing you to compose, sing along to, play and record your own tunes. Unlike a guitar you can slip a copy of Jam Sessions into your DS, whack it in your trouser pocket and whip it out wherever you wish, treating anybody that's willing to listen, to your own compositions and silky smooth tones. If you like, you could even use Jam Sessions to woo a lady on a first date, but a word of warning, under no circumstances should you play James Blunt's "You're Beautiful" - unless you want her to vomit in her meal.

One of my hobbies is playing the guitar so as soon as I watched some of the brilliant videos showcasing bands such as DubFX, Strangeways and Loaded Dice, strumming away effortlessly and making sweet, sweet music on their DS, I thought it would be the ideal musical companion to pick up; an alternative perhaps to carrying my guitar around to the houses of relatives for the annual Christmas knees-up. I actually bought the Japanese version of Jam Sessions, entitled M-06, many months ago and although my understanding of the Japanese language is…erm…non-existent, I've managed to play the 'free mode' and compose my own tunes for a while; you could even say I'm a bit of a Jam Session's expert.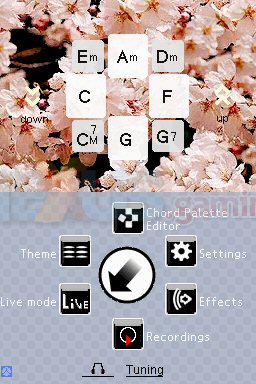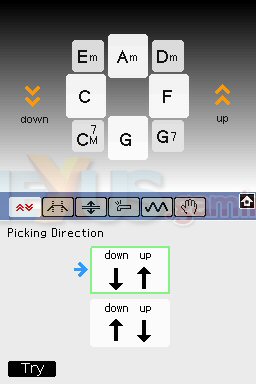 Well, you would think so wouldn't you? But, even with a decent knowledge of music and the guitar, Jam Sessions is pretty difficult to master. In fact, I can still only play the simplest of tunes - the ones that contain three or four chords - flawlessly from beginning to end (Status Quo fans should be fine). Admittedly, Jam Sessions is not as difficult as it is to actually learn the guitar, but if you're expecting to pick up a copy and be jamming away to your favourite tunes overnight, you'll soon discover it's just not as simple as that.

Make no mistake about it; Jam Sessions is an innovative piece of software and a great learning tool. If you're willing to put in the effort, the tools have been implemented into the 'game' to help and guide you as much as possible. But, like the guitar, if you hope to master Jam Sessions you'll need dedication, a sense of rhythm, perfect co-ordination and, most importantly, the ability to grit your teeth and battle through those frustrating moments – those times when you just can't quite master those chord changes or can't quite nail that rhythm.