I'll have an extra large DS please...with a side portion of Zelda
You would have thought that with all of the millions of DS owners worldwide already enjoying the delights that a Nintendo DS brings, and the relatively recent launch of the third hand-held revision, the DSi, that Nintendo would now focus solely on a successor to its incredibly popular console rather than even consider the notion of releasing a fourth iteration.

Not a chance, not while there are people out there without a Nintendo DS! Nintendo may be a name synonymous with innovation, but when the DSi XL was first announced it seemed like a ridiculous idea, a last ditch chance to target anyone who hasn't already considered buying the hand-held. Why is anyone going to pay what equates to around £50 more than the DSi, I thought -- for what appears to be just a larger version of that model? Well, after spending some time in her company (of course the DS has to be the female of the species,) I've grown to love the DSi XL more than any of the other DS revisions. Let me tell you why...

Before that though, let's get the specs out the way first:

Size (when closed): 6.339 inches (161.0 millimeters) wide, 3.598 inches (91.4 millimeters) long, 0.835 inches (21.2 millimeters) tall

Weight: Approximately 11.08 ounces (314 grams).

Top Screen: A backlit, 4.2-inch, transmissive TFT color LCD with 256 x 192 pixel resolution and .333 mm dot pitch, capable of displaying 260,000 colors. Can be viewed from any angle. Top half opens to lock at two positions: 120 degrees and 155 degrees.

Touch Screen: Same specs as top screen, but with a transparent analog touch screen.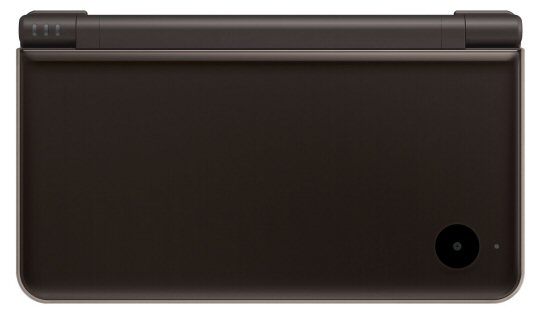 Cameras: 640 x 480 pixel resolution, 0.3 megapixels.

Brightness Adjustment: Users can adjust the brightness of screens at five different levels. Electricity consumption will vary, depending on the software used and brightness level (the brighter the setting, the less continuous play-time capability)

Brightness Approximated Continuous Play 1st level: 13-17 hours 2nd level: 11-14 hours 3rd level: 9-11 hours 4th level: 6-8 hours 5th level: 4-5 hours

Pre-Installed Software: The system comes with three software titles pre-installed. These include Brain Age Express: Math, Brain Age Express: Arts & Letters and Photo Clock.

Wireless Communication: IEEE 802.11 with enhanced security (WPA). Wireless range is 30 to 100 feet, depending on circumstances; multiple users can play multiplayer games using just one Nintendo DS or Nintendo DSi game card, depending on the software. (Note that Nintendo DS game cards are compatible in all Nintendo DS franchise systems, while Nintendo DSiWare and Nintendo DSi-enhanced games are region-specific.) Ability to connect to Nintendo Wi-Fi Connection, Nintendo's wireless gaming network. Ability to download demo versions of Nintendo DS and Nintendo DSi games from DS Download Stations, Nintendo Zone, or via the Nintendo Channel of the Wii console.

Controls: Touch screen, embedded microphone for voice recognition, A/B/X/Y face buttons, + Control Pad, L/R shoulder buttons, Start and Select buttons, dual cameras and volume control. The stylus is approximately 5.091 inches (129.3 millimeters).

Microphone: Located at the center of the unit, which allows it to pick up spoken commands regardless of how the Nintendo DSi XL is positioned.

LED Lights: Visible even when the Nintendo DSi XL unit is closed. Three lights indicate if wireless communication function is on or off, whether the battery is being recharged and how much battery life is left before it needs to be recharged.

Input/Output: Ports for Nintendo DSi game cards, Nintendo DS game cards, an SD memory card, an A/C adaptor and stereo headphones and a microphone.

Other Features: Embedded PictoChat software allows one user to draw pictures, or up to 16 users within local range of one another to chat at once; embedded real-time clock; date, time and alarm; touch-screen calibration.

Sound: Stereo speakers providing virtual surround sound, depending on the software.

Battery: Lithium ion battery delivering four to 17 hours of play on a 3-hour charge, depending on use; power-saving sleep mode; AC adapter.

Languages: English, French, Spanish.

Parental Control: An easy-to-use option that allows parents or guardians to manage access to Nintendo DSi exclusive and compatible software based on the ESRB rating, PictoChat, DS Download Play, Nintendo DSi Browser, and certain user-created content that may be inappropriate for some members of their household. It can also help manage the use of Nintendo DSi Points in the Nintendo DSi Shop and wireless exchange of photo data. Nintendo DSi Parental Controls are not compatible with existing Nintendo DS software.

Continued overleaf...