2D arcade shape shooter
Whilst other developers sit back waiting for the post Christmas sales slump to pick up before they unleash their new titles, Bizarre Creations and Kuju Entertainment are starting off the New Year with a bang with the release of Geometry Wars Galaxies, the multi-directional shooter and the sequel to the critically acclaimed Xbox live arcade hit, Geometry Wars.

Consumers may still be skint from their over excessive Christmas spending, but the developers are hoping that the success of the Geometry Wars series so far will have rubbed off on Nintendo fans keen to experience this unique take on the shoot 'em up genre.

Geometry Wars Galaxies is a peculiar game. On paper, the idea of playing a 2D arcade shooter that involves weaving in and out of and blowing up a mix of geometrical shapes may sound fairly unappealing to the next-gen crowd, but in reality the blend of old-school action, 3D effects and fast-paced gameplay, coupled with a finely balanced learning curve, means that it's hard not to get sucked into this addictive title from the out-set.

The DS and Wii versions are almost identical in their offerings, with a full version of the Geometry Wars: Retro Evolved game and Geometry Wars Galaxies thrown into the pot. In addition, both versions offer multiplayer functionality and online leaderboards, both of which add replay value to the title.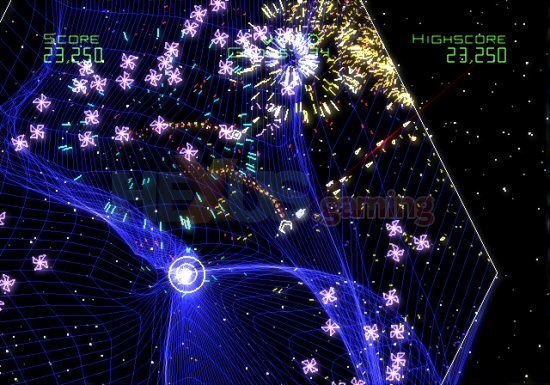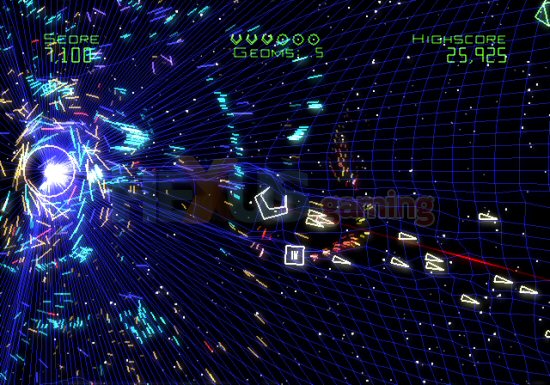 The Wii and DS can also communicate with each other through a few simple button presses, allowing you to transfer content that you've unlocked in one version to the other. I began my Geometry Wars Galaxies play testing with the DS version and unlocked the first couple of levels. When I turned on the Wii version I was able to choose to connect to the DS via the menu. A notice then popped up to tell me that those levels had now been unlocked on the Wii version. Of course, if you're up for the challenge on both versions you may not want to do this, but the option is there, and it takes only a matter of seconds to unlock the content.

There's also some good news for Wii gamers who own a DS, but only buy the Wii version. They can download Geometry Wars Retro Evolved for free onto the DS from the Wii, whereas owners of both versions can also combine their high scores on the Elite leaderboard rankings.

Right, onto the game…