Are you snooker loopy?
Whichever side of the fence you sit on - whether you love it or hate it - snooker is one of Britain's most popular past-times and, let's be honest, is one of the only sports that Britain is actually good at. So, full marks then to Blade Interactive for securing the exclusive license with World Snooker Ltd, Snooker's governing body, and finally bringing a full conversion of the game to the Nintendo DS, which opens up a number of possibilities to make good use of the stylus and its dual-screen functionality.

Let's begin with a few statistics to impress any snooker boffins out there. Having the official license means that there's access to 96 professional snooker players, including the likes of John Higgins, Peter Ebdon, Ronnie O' Sullivan, plus every other player you can think of that has graced the likes of the Crucible or Wembley arena. To add a further touch of authenticity to proceedings, commentary comes straight from the silky, sarcastic tones of Mr. John Virgo himself and whether it's a comment about sinking a long red and landing neatly on the next colour or completely fluffing your shot by putting too much spin on it, his often witty remarks are generally in line with what's actually happening on the table.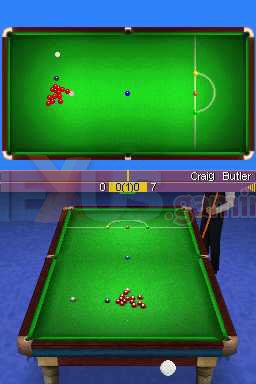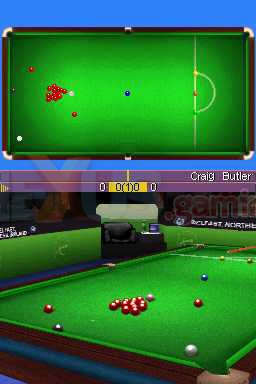 World Snooker Championship Season 2007-08 has many of the features that you'd expect from a decent snooker game. There's a solid tutorial mode, where you can play alone and get accustomed to applying topspin and sidespin to the cue ball while sussing out those all-important angles. There's a tournament mode, where you follow a set structure and career, aiming to win the likes of the Welsh Open before taking on the big guns in the World Championship. And finally, there's a quick play option, allowing you to choose some of your own parameters and jump straight into a game to show off your potting prowess.