Survival Horror

Once again players step into the role of the former Serial Crimes Unit investigator, Ethan Thomas, in Monolith Production's sequel to the gritty first person survival horror, Condemned. At the Games Convention in Leipzig we spoke to one of the game's designers before going hands-on with the latest installment on Xbox 360. He told us that Condemned, one of the first games to be launched on Xbox 360 way back in November 2005, was one of the most rented titles in the history of the console, but this time around they're hoping that by adding further replay value to the sequel, revamping the combat system, totally re-inventing the forensic element of the gameplay and adding a number of online multiplayer modes, that they'll be able to convince gamers that Condemned 2: Bloodshot is well worth the investment.

I loved Condemned. It was one of the first titles that I played on Xbox 360 and the dark and eerie atmosphere showcased the new power of the next-gen console suitably through its stylish and cutting edge graphics. Thus was the cinematic quality and excellent story telling in Condemned, even before the sequel was announced, it was picked up by Warner Studios and is currently being adapted to the big screen.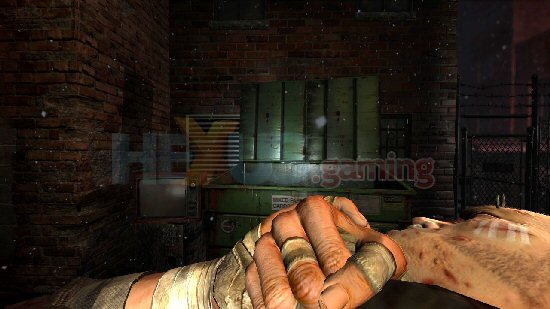 Click for larger image



In Condemned 2: Bloodshot, Ethan has been called back to duty to track down his missing partner. Once again, he investigates some dank and murky, blood-soaked locations, where you'll constantly be kept on tenterhooks awaiting the next enemy to frighten the living daylights out of you. Enemies lunge at you from the darkness armed with all sorts of offensive weapons and it's up to you to fend them off with your own array of grisly utensil. Along the way you discover a number of head scratching puzzles in which you need to use forensic techniques in order to solve the crimes.