Three part vocal harmonies confirmed
Harmonix has confirmed that it is working on the next iteration in the Rock Band series, which will feature all new gameplay modes, an 83-song setlist and a brand new keyboard peripheral.

Redesigned Library for Better Music Management
Rock Band 3 allows players to create and save setlists and share them with friends, both in-game and through RockBand.com. New song filters make it easier to find the types of songs fans want to play and hide the songs they don't, while a built-in song recommendation system will suggest tracks from Rock Band's colossal music library, based on personal fan preference.

Expand the Band
In addition to guitar, bass, drums and solo vocals, Rock Band 3 adds three-part vocal harmonies that were introduced with The Beatles: Rock Band and, for the first time ever, a keyboard peripheral to the band. Up to seven players can rock together for the ultimate social gaming experience.

Go Pro: Play Just for Fun or Rock for Real with Rock Band Pro
Rock Band 3 empowers players to develop actual musical skills through the fun of fully scalable Rock Band Pro gameplay. Fans can dive in on Easy to try out basic skills and work their way up to Expert for real mastery.

* Pro Drums supports three expansion cymbals, with gameplay differentiation between toms and cymbals.

* Pro Keys features pitch-accurate keyboard performance across a two-octave range, displayed on an easy-to-read keyboard track.

* Pro Guitar features notated guitar and bass performances, available for play with either the new FenderTM Mustang PRO-Guitar simulated guitar controller from Mad Catz or the Rock Band 3 Squier by Fender Stratocaster Guitar Controller that is a real guitar/controller hybrid. The Rock Band 3 Squier Stratocaster is a fully functional, full-sized, six-string electric guitar that also functions as a game controller.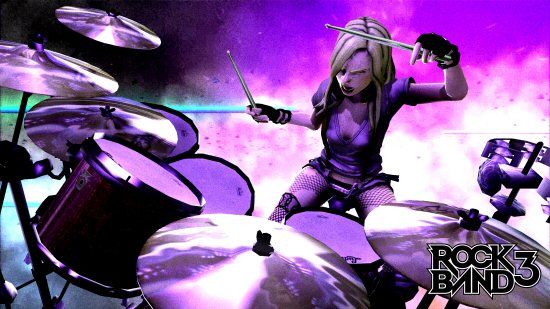 Contionued overleaf...