Impressive visual detail

If you are tempted to pick up a copy of Factor 5's dragon-commanding PS3-exclusive adventure, Lair when it's released this September, the first thing that will scream out at you is the incredible detail of the muscular winged reptiles as they sour through some stunning graphical backdrops with their wings powering them masterfully across mountains and over glistening lakes. My first introduction to LAIR was at the Games Convention in Leipzig, which saw me taking over the reins from a rather miffed individual who didn't look too happy to give up his game. The action began midway through a scene, riding on the back of my steed, whilst dozens of dragons were circling the stormy skies, spitting and spouting out their fireballs and illuminating the skies as far as the eye could see. The PlayStation 3's improved anti-aliasing capabilities translate into an impressive level of visual detail in LAIR and everything from the fine detail of the dragon with its crested head and enormous claws and teeth to the way that the fluid dynamics of water have been simulated to move, ripple and flow as realistically as I've seen in a videogame to date. (Yes, I know – I said this about Uncharted: Drake's Fortune and Bioshock, but Factor 5 really have nailed it).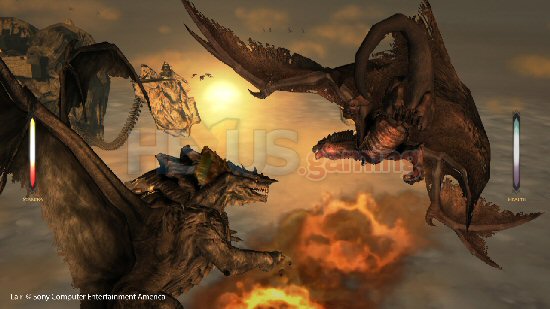 Click for larger image



So, to say that the gameplay setting was visually impressive would be an understatement. Before I'd even jumped on the back of my, apparently, well-trained dragon I was not only hyped at how my ride appeared to effortlessly, yet commandingly soar through the skies, with the heavy flapping sound of its almighty wings and imposing roar ringing in my ears, but also the cinematic nature of the explosive dragon battle kicking off in the skies surrounding me.