Give it some clout

Wandering past Frogster Interactive's booth in Leipzig we couldn't resist but pop in and find out how their remake of the Amiga Classic game, Speedball 2 was shaping up, of course the brand manager was all too keen to emphasise that this new version has now received a graphical overhaul to fall in line with the next-gen graphics we expect.

The gameplay will be familiar to anyone who played the futuristic sport's game, with the story behind the sport being the same as the orginal Amiga version - the first Speedball league (founded in 2095) fails due to violence and corruption. As the organization gave place to anarchy, the game is forced underground, but five years later, from one attempt to regain public interest, Speedball 2 is born.

This version will feature 2 game modes, classic and advanced, with the latter meaning that you'll have to master more complex moves, such as body checks, in order to win matches. Online they'll be player leagues and a ranking system with a worldwide leaderboard showing the best players.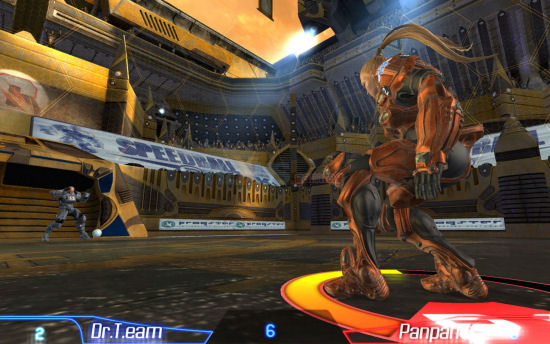 Click for larger image



The developers have tried to stay as close to the original as possible - a small field in which to play with 9 players on each team fighting brutally, like futuristic gladiators, in order to pick up the speedball and score in the designated areas. The action is once again fast and furious, reminding us of the speed of the likes of EA's NHL games. Unlike the original, there will be in-depth team management options similar to what we see in football titles (we didn't see any evidence of this system yet in action). There will also be three classes to choose from, male (power), female (speed) and cyborg (tough), each having different strengths and weaknesses. Each player will also be able to customise their team with a choice of pre-designed logos, although Frogster were keen to stress that you will be able to customise your own in the final version.

There are also eight different camera angles to choose from, power-ups, auto-aim functionality and a number of visually impressive power shots to master.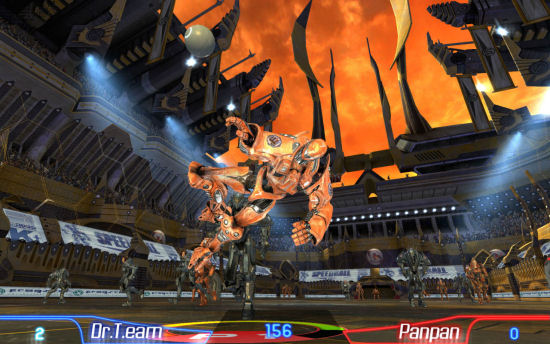 Click for larger image



Our first glance at Speedball 2 brought the memories flooding back - Nick (the Editor) holds the original in very high esteem. He was even heard saying that 'Speedball 2 was the ultimate sports game on the Amiga.' The latest effort to bring it back into the forefront of our minds once more, is an excellent effort. It's still fast, furious and most of all fun.

> More screenshots overleaf.